Fear of Fashion Faux-Pas (With Sustainable Alternatives!) 
In light of my favorite holiday of the year: Halloween, I have decided to dedicate this week's Couture Column to the scariest Fashion Faux Pas Now, what is a fashion faux-pas you might ask? According to Marie Clare magazine, "one of the biggest sartorial sins one can make when getting dressed." Now, you might be asking "what does this have to do with Halloween?" Well, my devout readers, the answer is simple. Halloween centers around scary things. And a fashion faux pas is something everyone should be scared of.
A couple of ground rules first: essentially, there are pretty much fashion "no, no's" in everyone's book. Of course, no red, white, and blue unless it's the 4th of July, or you plan on attending a patriotic party. Blue and black are okay, as long as it is navy blue and not a royal or a cerulean shade. While we're on the subject of colors, green and red are adequate only if it's Christmas time, you are dressing up as a cherry, watermelon, or apple. Also, let's try not to mix animal prints – only on very rare occasions can cheetah and zebra be a smashing hit in an outfit. It's also best not to mix stripes with anything other than solids. If you do want to mix prints, stick to one bigger print, and one smaller print–the juxtaposition will aid you on your quest. Trust me. 
Now, let's get into some faux pas that need a bit more explanation. First off, let's leave high-low dresses in the 2010s. I'm sorry but a dress that is reminiscent of the plastic that encloses a bouquet of flowers should never have become a dress in the first place. This is especially obvious since the plastic bouquet silhouettes are produced in floral patterns! Roses, and petals, and leaves – OH MY! Alternatives to these monstrosities are literally any other kind of dress–but namely a good midi dress. On this note, I would recommend checking Depop or your local thrift store for a good 90s style classic.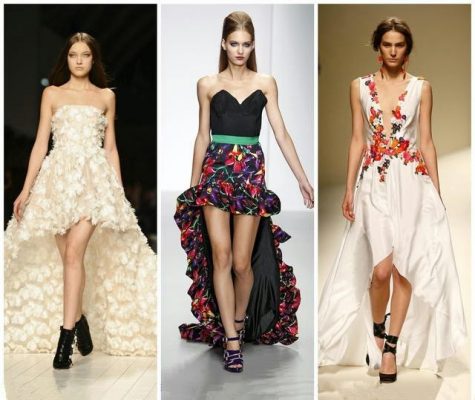 Secondly, let's just stop wearing pajamas to the grocery store, to pick up takeout, or pretty much just wearing them outside at all. Don't get me wrong–I am not opposed to wearing my favorite pair of sweatpants and t-shirt around my house, but if anything, when you do get to go outside (amidst this pandemic)  have fun and get dressed up. My golden rule for this faux pas is that you never know who you might meet when you go out. Like, who knows? You could see a teacher, an ex-friend, an ex. And let's be real,who wants to see any of those people in your pajamas?! When it comes to the alternative, and if you want to stay comfy but look cute, I highly recommend investing in some sustainable athleisure. My favorite brand for ethically made activewear is Girlfriend Collective–everything is made from recycled water bottles which is so cool and amazing for the environment!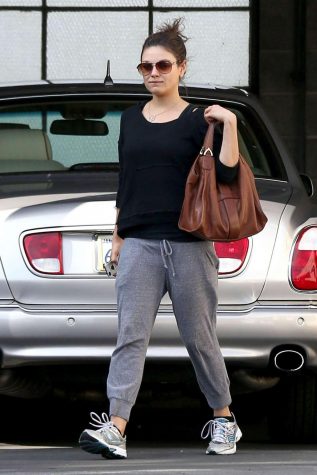 The next faux-pas is the dress and jeans combo. Now, I'm only mentioning this one because the 2000s are making their comeback and I want all of you to avoid this one at all costs. Never (not even on Ashley Tisdale) did this look good. There are two alternatives for this faux pas:1 to wear the dress on its own, and 2 to wear the jeans with a shirt. Look at how easy that one was to fix! However, I do want to share a couple of recommendations for shopping sustainably in general: there are mainstream brands with conscious lines, such as H&M, Free People, and Urban Outfitters. Conscious means that at least 90% of the materials for the garments are recycled–which is by no means perfect, but definitely taking baby steps in the right direction! Also, many brands are known for their sustainability including Reformation and Everlane–among others. However, a lot of these places tend to err on the more expensive side, so because of this factor, I would recommend only buying something if you are head over heels, would travel to the moon, etc. for this item. This is simply because, most of the time, you can find a similar piece on Depop or at the thrift store.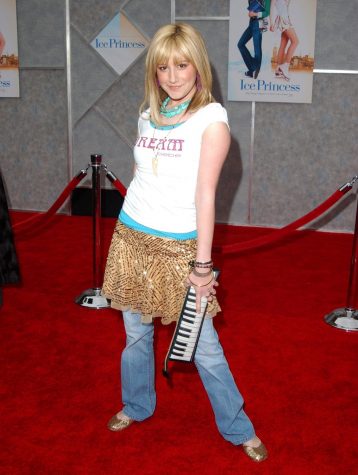 Sadly, we've come to our last faux pas, or last faux pas's (plural). I would like to dedicate this section to talk about a couple of Halloween costume no no's. Let's start with the obvious–at this point, we are all high schoolers, and therefore mature enough not to purchase an entire costume from the costume store. Halloween is just not as fun without finding the pieces individually and putting everything together to have a completely unique costume. Of course, if you need those bat wings or vampire capes, buy them from the costume store! All I'm saying is that buying the entire situation from the store is missing a lot of the fun of costume hunting! Next, when it comes to choosing who or what you are going to be, opt for something that is different from your normal style! If you tend to lean towards being more goth, maybe being Gretchen from mean girls will be a fun change of pace! Halloween costumes are all about getting the chance to become something different for one night–which you can communicate through clothing! Do you understand why it's my favorite holiday now?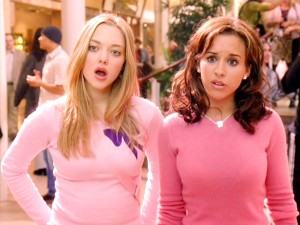 To sum up, this week's column below is the succinct list of faux-pas not to do!
Ground rules (see the list in 2nd paragraph)

High low dresses

Wearing pajamas out

Dresses and jeans

Halloween no no's (see above)