The Couture Column: Styling the Zodiac Signs
Hello again everyone! Today we will be combining two of my greatest passions: fashion and astrology. Yes, you heard it right, devoted fashionistas and lovers of what's to be found (and discovered) about one's self in the stars,I will be styling each of the zodiac signs. I'm going to mention this now but I have also created a Pinterest board for each sign with some things I will have mentioned in the article along with some other things I think each sign would wear/would like. Click here for that board — there are sections within it! 
Aries (March 21-April 19)
Element: Fire
Distinguishing characteristics: Bold and ambitious 
Color: Magenta
Style an Aries with a fun, risk-taking outfit. A ribbed red tank, a magenta or burgundy mini skirt or some dark, low rise jeans, and a vintage NASCAR jacket to top off the look. In the warmer months, a vintage pair of red-hued boxing shorts with a plain baby tee would look really cool and would lend to their daring natures.
Taurus (April 20-May 20)
Element: Earth
Distinguishing characteristics: stubborn, yet serene and relaxed
Color: sage green
Tauruses are generally known for gravitating towards comfier fashions, such as looks that are put together, yet relaxed. Style a Taurus with some high-waisted, ribbed flare pants and either a cropped tank or an oversized vintage t-shirt. Rely heavily on accessories to top off the look, and coordinate jewelry, shoes, and bag to be cohesive.
Gemini (May 21-June 20)
Element: Air
Distinguishing characteristics: interested in many pursuits, enigmatic and accepting of change
Color: Baby pink
Because Geminis are unopposed to change, they tend to gravitate toward following trends and are more go-with-the-flow with fashion and generally less restricting of themselves. For this spring/summer's trends, style a Gemini in a digital print floral-patterned dress, some baby pink strappy heels, and some cute sunglasses with a baby pink bag to tie the look together. 
Cancer (June 21-July 22)
Element: Water
Distinguishing characteristics: Emotional and exceedingly intuitive
Color: Sky blue
Whenever I imagine a Cancer, I see them floating atop a cloud or nearby the ocean or any body of water. Style a Cancer with a sky blue, dreamy puff-sleeved dress, some white gogo boots, and silver jewelry galore! I would also top the look off with a matching crochet bucket hat and cardigan in either a white or pastel tone.
Leo (July 23-August 22)
Element: Fire
Distinguishing characteristics: Vivacious and theatrical
Color: Orange
Since Leo's love being the center of attention, style them in something that is sure to catch an eye wherever they are. I see either a bold-colored corset and midi skirt look, or an orange maxi dress with a statement shoe such as patterned cowgirl boots or some custom AF1s. Make sure to accessorize with various mismatched bold-colored items, i.e. purple sunnies, a bright blue bag, and both gold and silver jewelry.
Virgo (August 23-September 22)
Element: Earth
Distinguishing characteristics: Practical and down to earth
Color: Forest green
Virgos always remind me of either two things: going into a bookstore or going out into nature. For this reason, style them with lots of cardigans, midi skirts, and loafers or with a mix of mom jeans, denim jackets, and puffer vests. For a spring/summer look, compromise with a midi skirt and loafers paired with a crochet top and either a denim jacket or a puffer vest to top the look off. Virgos most likely will gravitate towards their favorite pieces of jewelry and their favorite bag for each outfit.
Libra (September 23-October 22)
Element: Air
Distinguishing characteristics: Balanced and harmonious
Color: Lavender
Style a Libra with a mix of dreamy and bold colors focusing on aesthetics and silky materials in their outfit. Think a silk midi skirt that pairs well with an asymmetrical, one-shouldered top with a ruched side. A cardigan with a fuzzy collar and cuffs would look great as well! And to top off the look, either silver or gold jewelry is recommended with a lot of gemstones and crystals incorporated. 
Scorpio (October 23-November 21)
Element: Water
Distinguishing characteristics: Passionate and powerful
Color: Red 
Style a Scorpio (my sign) with a little black dress (or LBD) and some black boots. Personally, I love purple and red with black, so I'd add a red makeup look with a purple silk sweater of some sort. Top it off with a corset and a ton of silver jewelry, especially chains!
Sagittarius (November 22-December 21)
Element: Fire
Distinguishing characteristics: Adventurous and easy-going
Color: Yellow
Whenever I envision a Sag, I always see them in a floral flowy skirt, mini or maxi, with a colorful ruched top and a fuzzy cardigan. Because of their adventurous natures and love of fun, choose colorful basics over neutral ones, and fits that can easily go from running around doing errands to a night out on the town.
Capricorn (December 22-January 19)
Element: Earth
Distinguishing characteristics: Focused and driven
Color: Kelly green
Probably the most driven Earth sign to get their to-do list done, Capricorns are very focused on themselves, furthering their careers and getting down to business. Style a Capricorn in some black low-rise flare pants, a colorful shirt, and a cute denim jacket over top. I would pair this fit with some chunky loafers and loads of gold or (depending on preference) silver jewelry .
Aquarius (January 20-February 18)
Element: Air
Distinguishing characteristics: Rebellious and free-spirited
Color: Turquoise
For the most free-spirited, go-with-the-flow air signs of the Zodiac, style an Aquarius with the flowiest maxi dress available, some lacy arm warmers, and some combat boots with some sort of mismatched hat. I always see Aquarius with white eyeliner, or some sort of crazy eye makeup look as well!
Pisces (February 19-March 20)
Element: Water
Distinguishing characteristics: Fantasy-filled and dreamy
Color: Periwinkle
The last sign of the zodiac and by far the dreamiest. Every Pisces that I have encountered is in one way or another, in their own fantasy world. Style a Pisces with a full, pastel tulle skirt and a white lacy top. For shoes, do either comfy, pastel sneakers or some strappy pastel heels. Accessorize with some colorful pastel jewelry (can you see the pattern?) and some silver jewelry.
Thank you so much for reading and I hope you all learned something about your sign, your friends' signs, or anyone in your lives really! Remember to click here to access the Pinterest board I made and as always, if you have any questions or would like to have further discussions about fashion or astrology–email me, text me, or contact me in any way (I'd love to connect with all of you)! See you next time, couture columnees!
Leave a Comment
About the Contributor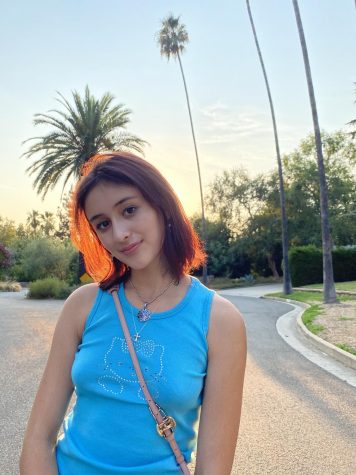 Avalon Dela Rosa, Features Co-Editor-In-Chief
Avalon Dela Rosa is co-editor of features at the Crier and serves as senior class president and co-head of the student diversity council. Additionally,...