The Couture Column: The Online Thrifting Awards
Depop. eBay. 2nd Street. The Real Real. Raghouse Vintage. At some point, you've heard of these apps or websites. They are designed so people can list and sell an array of apparel from vintage to new with tagged goods – regardless to say, there's something for everyone. 
Pre-COVID, one of my favorite weekend activities was to go thrifting and vintage shopping. The difference being that thrifting indicates a regard "to money and price–as in, the careful management of monetary resources" whereas vintage indicates "years of production." I went far and wide from Los Angeles to northern California to discover infamous vintage stores (from Twice as Nice in Carpinteria to the Wasteland in Santa Monica), locate new thrift stores (from Goodwills in the middle of nowhere to chains I've never heard of), etc. My mission was always to find something unique and worn in–whether it be an old leather jacket, a 90s style midi dress, or a 100% silk scarf. However, amidst a pandemic, the prospect of going through someone's old clothes isn't exactly thrilling… 
In mid-April, I discovered the world of online thrifting. Did you know that you can get 50lbs of vintage denim delivered to your door? Order coveted pieces for less than ½ price on eBay? Find deals on luxury pieces on the Real Real or Vestiaire Collective? Make friends with sellers on Depop? Find the cutest baby tees on ThredUp–that are literally made for children?
Whether or not you have dived into the vast world of online thrift shopping, I hope you enjoy my awards for the best deals, best vintage, best user experience, and best local. Have fun reading and shopping!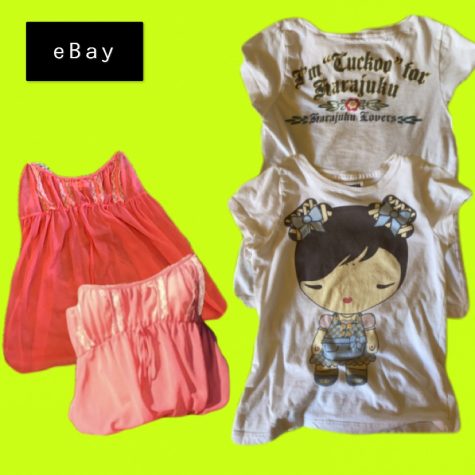 The award for best deals goes to… eBay!
From buying books on eBay that would have cost me 4x as much at a normal bookstore, to spending $20 on Victoria's Secret slip dress that would have cost me upwards of $80, and to get an array of children's baby tees that make me reminisce over my childhood such as the "Harajuku mini" tees, I've reached the general conclusion that eBay has THE best deals. Go on eBay and search for what you want. If the "Buy now" price is good then click it. If not, make an offer! IMPORTANT: When you make an offer and the seller accepts, you MUST PAY for the item. In other words, you cannot go back so make sure you are in love with what you make an offer for. eBay is dominated by "more experienced" sellers that are not always aware of the worth of a trendy or an "it" item. Use this to your advantage and snag that cheetah vest for $5 on eBay!!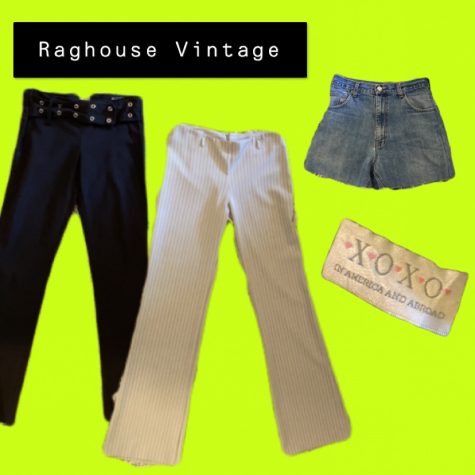 Best vintage goes to… Raghouse Vintage!
Raghouse is the best hub for getting pounds of vintage clothing shipped to your door. During quarantine, I ordered 2 things off Raghouse: 50lbs of "recycled" denim shorts and 11 pairs of y2k style low rise pants. The tags on the low-rise flares are to-die-for and the raw denim fabric of the shorts makes my heart so happy! Can you tell how much I love clothes?.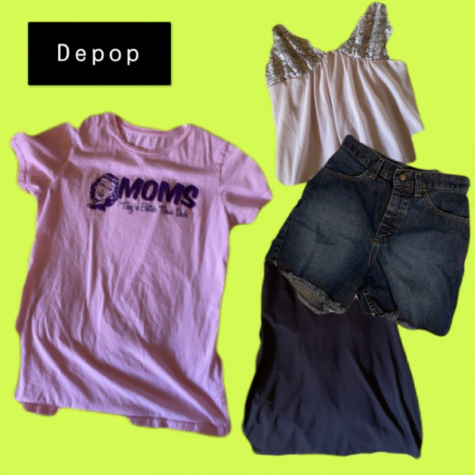 Best user experience goes to… Depop!
If you haven't downloaded Depop or gotten forced to set up a PayPal account during quarantine, I applaud you. Depop has taken over my life and quite honestly, it's taken all of my money. I accredit the dent in my wallet to Depop's app and website design that is very similar to Instagram… but better? Sellers' profiles display as they would on Instagram (i.e. profile picture, bio, grid design, etc.) – with one key feature in mind, you can purchase clothes! And by now, if you haven't realized that I am a self-proclaimed shopaholic, Depop is where it gets bad… 
Forget Instagram, I can scroll on Depop for hours on end. At this point, I have good relationships with my favorite sellers because you can private message "PM" them. Asking them how they are doing and thanking them for their patience and kindness is sometimes all the human interaction I need! Oftentimes, sellers will include a little notecard and thank you for supporting their business with your order (so sweet!). I also adore the feature that allows you to "like" and "save" items to check out later – much like Instagram. I use the "like" feature when I'm doing a quick scroll and if I want to compare styles of a mini dress, for example, I will "save" my "liked" mini dresses and compare prices, silhouettes, and sellers' reputations. That's another thing I love about the app's user interface! When you purchase something, you can write the seller a review which keeps other buyers in the know if you had a bad experience with the seller.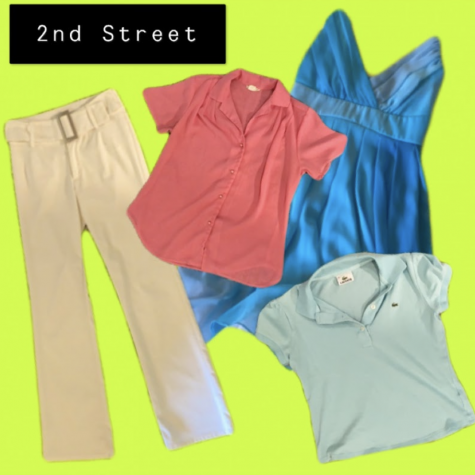 Best local goes to… 2nd Street!
I was hesitant at first to share 2nd Street with you all but I am putting aside my selfishness for the sake of fashion. 2nd Street is a second-hand clothing store in Old Town. Before Covid-19, and mind you, I am not exaggerating, I would go twice a week. So as you can imagine, I was very disappointed for around two months that the store was closed. Consequently, in my creative writing class, I wrote THREE stories about the next time I could walk into the small shop. While others were missing friends, extended family, and school, I spent my days fantasizing about the racks of clothing, wall of sneakers, and luxury accessories in the glass shelving. All of that aside, my point is to say that 2nd street has an online presence! Can you imagine how excited I was? Jumping up and down (no really–I was) and already having convinced myself that this would be the perfect time to get all my friends Christmas gifts! Once I found out, I spent the day searching, adding things to my cart, and marveling over how shipping takes 1-2 days! However, the online store only has luxury (high fashion brands such as Chanel, Burberry, and Yves Saint Laurent–to name a few) items, opposed to the brick and mortar store having very good deals where I have found a couple of my favorite pieces.  
Now that you've made it the end, congrats–you are either a shopaholic (like me) or an SIA (not the singer, silly!) a Shopaholic In Training! Either title gives you all the opportunity to try online thrifting for yourselves and get back to me with the results! For some extra support, here are my 3 most important tips for first-time online thrifters!
Always check the measurements of clothing or an accessory. A lot of the time, vintage clothing is sized differently so be careful!

Ask the seller for a better price. Seriously, don't be scared to do this, sellers mark up their prices all the time, and if there's never harm in trying! 

Try something new. The truth is you'll never know if you like something if you've never tried it, so go for it!
With all that in mind, I trust you all–shopaholics and SIAs alike, to follow in my footsteps and become online thrifters! Have fun!