About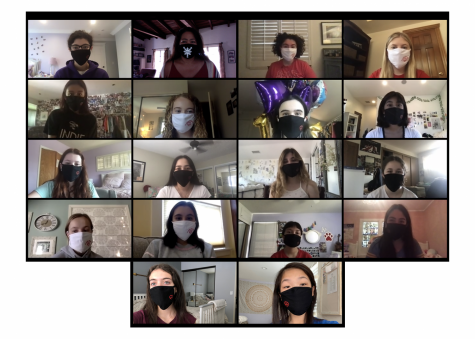 The Mayfield Crier is a student-run news publication at Mayfield Senior School, an all-girls, independent, Catholic, college preparatory high school in Pasadena, California.
The Crier is a forum for student expression, written by students for the benefit of Mayfield Senior School's community. Our goal is to report relevant issues to the best of our ability.
In the 2020-2021 school year, the Mayfield Crier's goal is to highlight important topics surrounding diversity, equity, and inclusion. We want to educate others about unchecked racism and discrimination globally and within our community. The Mayfield Crier is a publication that allows communities to come together and support their BIPOC community in a time of uncertainty.
Although the Mayfield Crier has previously been published in print, Covid-19 has allowed us to dedicate all of our resources to our newly designed website. We hope the Mayfield community is as excited about the launch of our new website as we are.
CONTACT:
Email: [email protected]
Instagram: @mayfieldcriernews
Twitter: @Mayfield_Crier
Location: 500 Bellefontaine St, Pasadena, CA 91105
AWARDS:
March 2021 — Best of SNO, Grace Sandman, "Cornelia Connelly's Family History of Enslaving People to be Included Across Mayfield Senior's Four Year Curriculum"
January 2021 — Silver Key recipient Scholastic Art & Writing Awards, Grace Sandman, "@Dear Instagram Accounts Prompt Painful Discussions, Public Disclosures About Elite Private Schools"
January 2021 — Silver Key recipient Scholastic Art & Writing Awards, Grace Sandman, "Supreme Court's Newest Justice Follows In The Seat But Not The Footsteps of Ruth Bader Ginsburg"
January 2021 — Honorable Mention Scholastic Art & Writing Awards, Madison Rojas, "Activism Should Be More Than Just a Hashtag"
January 2021 — Honorable Mention Scholastic Art & Writing Awards, Grace Sandman, "@Dearmayfield Reveals History of Unchecked Racism"
January 2021 — Honorable Mention Scholastic Art & Writing Awards, Hannah Sherman, "Tik Tok Is Social Media Wasting Our Time?" 
November 2020 — Best of Show Social Justice Reporting JEA/NSPA Fall National High School Journalism Convention, Grace Sandman, "@Dearmayfield Reveals History of Unchecked Racism"
December 2019 — Gold Key recipient & American Visions & Voices Nominee Scholastic Art & Writing Awards, Sophia Kroe, "If We Can Dance Ballet, Why Shouldn't Prince George?"
December 2019 — Silver Key recipient Scholastic Art and Writing Awards, Grace Fontes, "I am"
December 2019 — Honorable Mention Scholastic Art & Writing Awards, Emily Wallace, "A Writer's Touch"
December 2019 — Honorable Mention Scholastic Art & Writing Awards, Keara Keelty, "From the Shoreline, the Child Believed"
May 2019 — 3rd place Cabrini Literary Guild Essay Contest, Grace Fontes