Mon's Favorite Mayfield Spots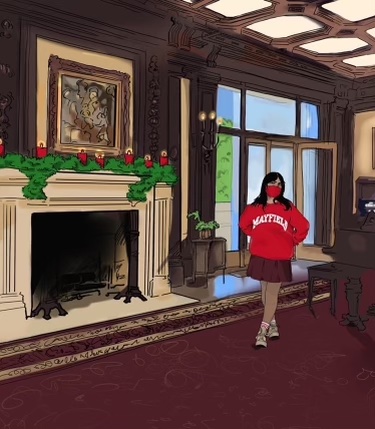 Whether it be spending rainy lunch days in Strub's cozy living room or reading a book in the window seat of the library, there is no doubt that Mayfield's campus is simply stunning. I cannot begin to explain the excitement that was rushing through me as I took my first step into Strub Hall, and I rejoice over the fact that I have the chance to do this for two and a half more years. 
Although Mayfield is beautiful year-round, I believe that it is truly incomparable during the autumn and winter months, a time where there are festive decorations everywhere you turn. If you know me, you would know that I adore cold and rainy weather, warm tights under my brown skirt, LOTS of sweaters, and every traditional October to December activity that exists. Mayfield takes all of these things to another level. 
Today I will be sharing my ultimate favorite spots at Mayfield: the locations where I always look forward to passing by, having classes, and spending my free blocks in.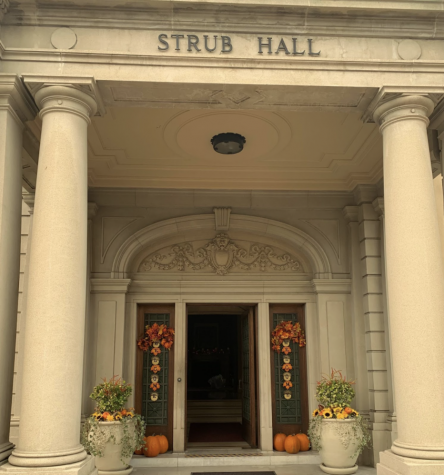 1. Strub Hall's entrance
I knew I must begin where it all started: Strub Hall's entrance. Before I elaborate more, can we take a moment to notice how adorable Strub's entrance is with all of its fall decorations? I love it. This extraordinary entrance had to be included in this list because no matter how many times I walk in and out this door, it still feels like the first time. Walking through this door always feels like a warm hug, and I will never be able to forget this feeling. Every day when I am on my way to my first class, it really does feel as if I'm Hermione Granger on her way to Herbology or Divination class.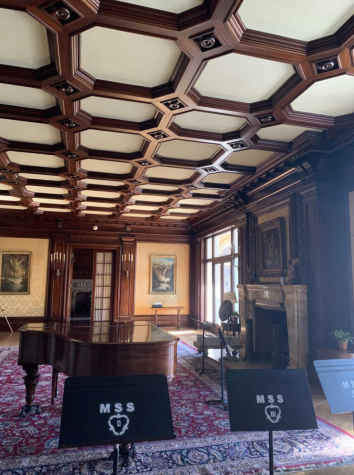 2. Strub Hall's main living room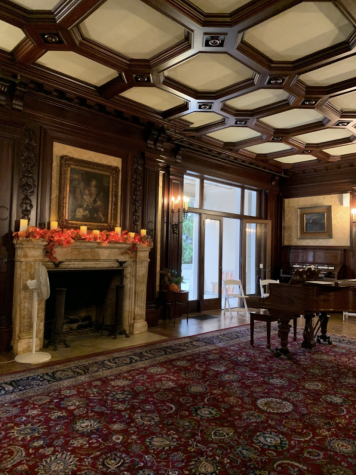 After the front door comes Strub's splendid living room, which is also towards the top of my "favorites" list. People were so right when they said that Mayfield would automatically feel like a "home away from home". Considering that Mayfield really was a real home, it makes complete sense that coming to school everyday feels like I am leaving one house and arriving at another. It's such a surreal and astonishing feeling: walking out of your Theology classroom and then taking a moment to sit in the living room, listening to the sweet sound of piano play as rain patters against the tile outside. I will never stop talking about this room because in my opinion, it radiates an amazing feeling all over campus. So much so that I felt the need to include two pictures of it. I have the pleasure of attending Women's Ensemble class in this very room with an accompaniment of natural light and a perfectly cozy environment! The living room is especially my favorite on rainy days and Ensemble classes with Christmas music involved (or every class lately).  
The chapel
Taking a moment to breathe and unwind in the chapel brings forth so many serene emotions.
The space itself feels like breathing in a breath of crisp fall air (truly an amazing feeling).
I really appreciate the chapel, especially the beautiful stained glass windows that shine rays of colored light onto my sheet music when practicing with the rest of the 1st altos in Women's Ensemble. Simply walking into the chapel calms me, and I know that everyone values having a space that provides serenity and peace.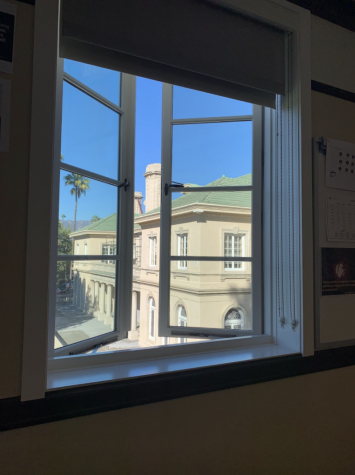 Strub room 301
Strub 301 has to be my favorite classroom in the whole building. One thing you must know, if you don't already, is that Mayfield is surrounded by a number of trees and greenery. This room, in particular, perfectly demonstrates this which is why I love it. During brain breaks in history class, I can simply stick my head out of one of the (many) windows in this room and just breathe. Perfect type of brain break, right? When I have classes in this room, I particularly love to sit in the left corner seat: the one with two windows on either side. One window exhibits a view of pure trees and direct sunlight, and the other has a view of the back of Strub (as seen in the picture above). This will always be my favorite room to attend classes in, it's amazing.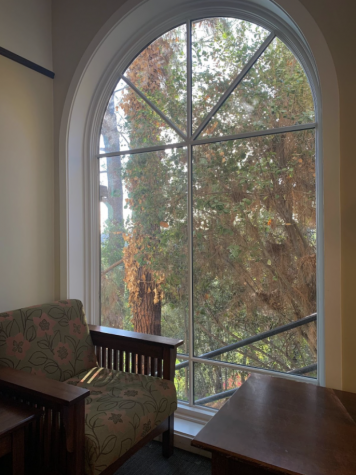 THE library window seat
The reason I stress the 'THE' in "the library window seat" is because it is the absolute best spot to spend free blocks and poetry writing sessions in. Specifically on rainy days, this seat makes me feel like I'm Rory Gilmore, in the fall, reading a book, and drinking coffee. This location, along with basically all of Mayfield's locations, has a particular thing in common: natural light. A major part of the magnificence of this seat is all of the trees seen and of course, like I said, the sunlight present. Any day when this seat is not occupied (because I assume all of Mayfield's girls love it as much as I do) is a good one. 
Of course, these are not the only locations on Mayfield's campus that I love. If I listed all of them, this article would be never ending. However, I hope you enjoyed hearing about the fondness I have over these five special locations that make attending Mayfield feel like a never-ending, marvelous dream.
Leave a Comment
About the Contributor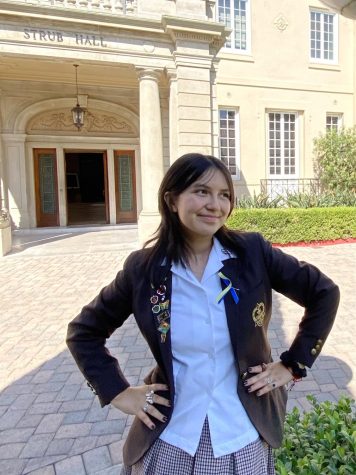 Monica Zepeda, Features Editor
Monica Zepeda is a junior at Mayfield Senior School. She joined the Mayfield Crier as a freshman and as a junior, she will serve as Features Editor. Monica...