Excuse Our Dust: Mayfield's Five Year Renovation Plan Focuses on Accessibility, Sustainability, and Collaboration
The revving up of power drills, towering scaffolding, and the fresh scent of new paint: while we have been away for the past 18 months, Mayfield has been undergoing serious renovations that have been in the works for the past five years. The first and third floors of Strub have been redesigned to facilitate Mayfield's growing visual arts program and new New Student Support Center, while the inner workings of the building, such as plumbing and electricity are under renovation. But not to fret, the historic parts of Strub Hall will maintain all of their timeless beauty. Here are the highlights of these new spaces on campus: 
Strub First Floor 
The first floor of Strub, home to our beloved math classrooms, locker rooms, and library may catch you by surprise the first time you lay eyes on it. Where freshmen and juniors used to store their books in forest green lockers, there now stands a new study hall room. The space formerly known as the Senior Lounge is now home to Mayfield's very own Digital Media Room where you might catch students recording podcasts, designing the yearbook, or editing films. The art room has been completely renovated with new flooring, shelving, and cabinetry to support Mayfield's talented visual artists. 
The former digital media room (adjacent to the Sussex room) is the new senior lounge featuring blue plush couches, a built-in counter space, and a mini fridge. But shhhhh, we can't show any photos of the top secret senior territory! 
You may also notice a change to the South wing of the Sr. Barbara Mullen Library: a brand new classroom overlooking Cornelia's Courtyard. 
Strub Second Floor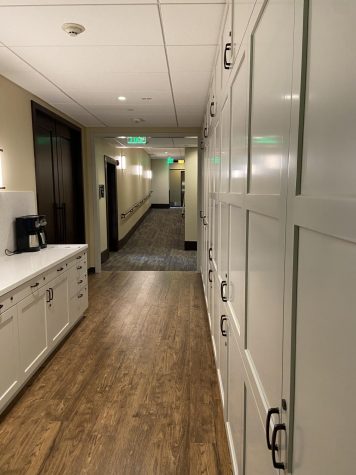 Strub's second floor features a new hallway space with modern shelving from the main entrance to the south wing of classrooms. Nurse Cota's office has also been reimagined with a restroom, and extra room for students who are feeling ill. 
Strub Third Floor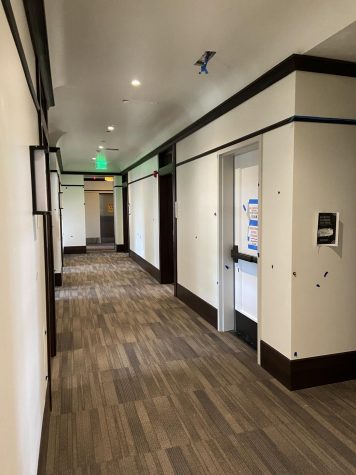 Finally, the third floor of Strub is currently under construction to create Mayfield's new Student Support Center. This space is home to Campus Ministry, and the offices of the Dean of Students, and Mayfield's Learning Specialists among others. The center promotes collaboration by allowing students to plan events and meet with teachers in a centralized space.
New Renovations Highlight Accessibility 
The main hallway of the first floor has been updated to connect the main building to the math classrooms with a ramp rather than a set of stairs. This change is one of many Mayfield has undertaken to make the campus more accessible for all students and visitors. The new renovations add a ramp outside of Nurse Cota's room, Americans with Disabilities Act (ADA) compliant seats in Pike to accommodate audience members who have wheelchairs, and a handicap accessible stall in the third floor restroom . 
Within the Walls
Behind the scenes of the beautiful new renovations shown above, Mayfield is taking the next step to modernize the inner workings of the Strub. Considering that the main building of our campus is a residential home built a century ago, there were plumbing and electrical changes that needed to be made. 
"A lot of plumbing is original to the house," Phil Velasco said. 
"It's galvanized piping that was in there originally. And over time like anything, galvanized piping will erode and rot so what we're doing is replacing those lines with copper lines or other drain lines. Essentially we're going to have a whole new water line drainage system which will hopefully help the house to last another hundred years."
"Electrically, same deal," Velaso explained. "There have been parts of the house that were upgraded over time. Rooms like the living room were still on the original electrical panels and some original wiring."
Did you know that the 100-year-old electrical circuit in the living room used to prevent us from plugging in two coffee makers at a time? That meant that during hybrid learning last year, when the living room was used as a hybrid classroom, the facilities team had to carefully coordinate how the smartboards, computers, and phones could be plugged in without overloading the electrical system. 
But now, thanks to the new renovations, not only has the electrical capacity of the living room been improved, but many of the electrical systems running through the building have been completely updated. 
"What we're doing now is upgrading all that wiring and panels and we should be able to have normal events," Velasco said. 
Lastly, as Connie Peters, Director of Facilities explains how the renovations will transform Mayfield by giving it "truly a facelift, new mechanical, electrical, and plumbing. It gives you some of those upgrades that enhance the space. You're also getting some structural integrity in the building which we didn't have before." 
The Renovation Journey
With all the beautiful updates that are taking place on campus, there is a dedicated team of individuals working to make them happen. Peters explained the challenges of renovating such a unique building like Strub: 
"You never know what's behind the walls until you open them so what you had planned on structurally wasn't necessarily what you found." 
And this was certainly true for the Strub Hall, but that did not stop the renovation and construction team from pushing through obstacles. 
"Sometimes things don't go as fast as we expect," Velasco said. "Sometimes it's just to make sure the job gets done right. It's one thing to speed through and it's another thing to slow down and go 'okay, let's take the time to get this done properly.'"
And this has been the motto of the renovation process all along, to ensure that the process is safe and effective in order to preserve Strub Hall for the next generation of Mayfield girls. 
"There is a lot of forethought in the project," Peters said. 
"There are a lot of smart folks working on this project. This project has been in the planning stages for five years. So I think students should realize that this wasn't just a year-long process but it's been five years in the making and we've tried to think of everything…We really thought of the space with them in mind."
Leave a Comment
About the Contributor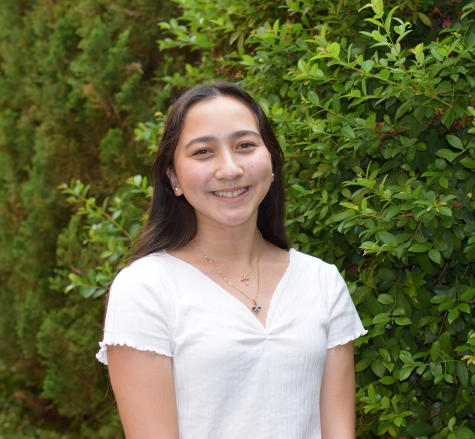 Hannah Sherman, Online Editor-In-Chief
Hannah is a senior at Mayfield Senior School and is thrilled to be a part of The Mayfield Crier staff for her fourth year as Online Editor in Chief. Hannah...