Teddy Bear Comforting a Nation Over a Century
We all had a special cuddly friend as a child; some of us still keep  our soft toys close. One of the most popular plushies to snuggle with in America is the teddy bear. As COVID-19 cases surge in the background, we are still hugging our teddy bears at home, as they provide us with feelings of comfort, solace, and joy.
To keep children entertained during this global pandemic, neighbors have placed stuffed animals, namely teddy bears, in the windows of their home to create a scavenger hunt for the children as they go on walks with their parents which perhaps was particularly poignant since some children have been restricted from playing regularly with the neighborhood friends. 
"For about an hour we didn't think about anything else that was happening in the world," said Monmouth, Maine, resident Allison Angell. "It was just about the bears. The kids sat in the back seat. My daughter kept a tally. We kept looking, and it was only that, and I had completely forgotten what was going on until we pulled back into the yard."
"To the parent (it's gotta be a parent) who came up with this idea, thank you." tweeted Daniele Hamamdjian of New Zealand. "Explaining to a 4-year old why playdates aren't allowed anymore is heartbreaking, so 'Going on a Bear Hunt' during our walks is the distraction we needed."
 In some communities in the United States, children get fully prepared by dressing in safari outfits and binoculars, waiting by the door for their parents so that they could take them on a bear hunt. As they take a walk with their families, children have fun pointing out the cute critters placed in the windows of nearby homes and enjoy participating in a fun activity. Some families even decorate their sidewalks with chalk paw prints. For parents, it can be hard to explain to their children that they cannot have playdates because people are sick, so spotting a stuffed animal in a window is a good distraction. The bear hunts act as a silent visual message that tells people, "We are all in this together; I know how you feel."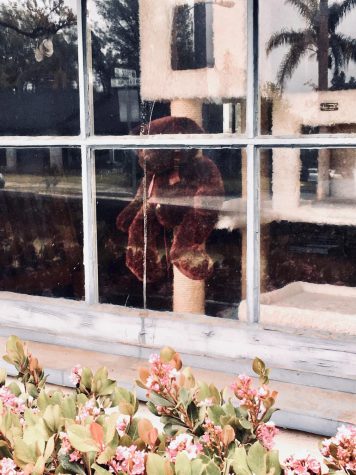 The origins of the teddy bear began on November 14, 1902, when President Roosevelt, an enthusiastic hunter and outdoorsman, was on a hunting trip organized by Mississippi's governor, Ander Longino. After a few days without success, Roosevelt and the accompanying hunting dogs were following the trail of a bear. Having thought they had lost the bear, Roosevelt went back to camp, but hunting guide Holt Collier and his dogs kept searching and found it.  Collier clubbed the bear over the head and tied it to a willow tree. He insisted that Roosevelt shoot it, but the President refused, considering it ungenerous to kill a defenseless animal that way. Roosevelt forbade the other hunters from shooting it, but since the bear was so badly injured, he killed it with a knife.
News stories about this moment captured audiences across the country, and people were surprised to see their President depicted as a bear hunter. Clifford Berryman, a political cartoonist, read several articles about the highlight of Roosevelt's hunting trip and decided to poke fun at the President's refusal. His cartoon, "Drawing the Line in Mississippi," was published in the Washington Post on November 16, 1902. Rose and Morris Mitchom, store owners in New York City, were inspired by the cartoon to create a stuffed toy bear, originally named "Teddy's Bear,"  and dedicate it to the president who refused to shoot a bear.  After receiving Roosevelt's permission to use his name, Morris Mitchom mass-produced the toy bears, which became so popular that he founded the Ideal Toy Company.
Ever since the creation of the teddy bear, it has become one of the ideal toys and comfort items for children and has been featured in songs, TV shows, and movies. Teddy bears have even become collector's items for adults, but some do not collect bears because of their monetary value. A study found that over 50% of adults still have their favorite stuffed animal they grew up with, 40% sleep with it by their side, and 70% said they want to keep it for the rest of their lives!
Historic Teddy Bear Day is observed on November 16, the same day that the cartoon depicting America's 26th President as a hunter was seen before the public eye. Here are ways that you can celebrate the teddy bear::
Giving a Teddy Bear to someone you love.

Donate Teddy Bears to a local organization for children.

Show your younger siblings the teddy bear you grew up with

Visit a place to make your own teddy bear, such as Build-a-Bear, or simply buy a bear at the store.

Sew your own teddy bear

Read books or watch TV shows that feature bears as the main characters, such as Winnie-the-Pooh, Paddington, and Corduroy

Read more about Theodore Roosevelt, or visit a

teddy bear museum.

If you have a teddy bear, give it a warm hug and apologize for all the roughhousing it may have had to go through during your childhood.
Leave a Comment
About the Contributor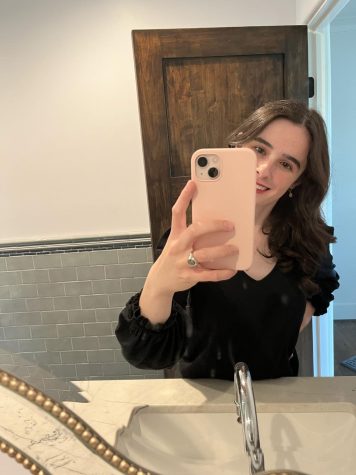 Sophia Kroe, Staff Writer
Sophia Kroe is a senior at Mayfield Senior School and a staff writer for the Mayfield Crier. She joined the team of reporters her freshman year. Sophia...