The Beauty Behind Mayfield's Decorations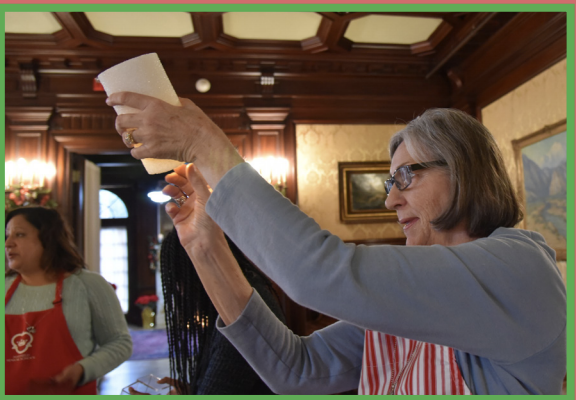 As Mayfield students enter the front door of Strub, they are greeted by shining gold ribbons alongside carefully placed ornaments and the soft glow of Christmas lights hanging from the Christmas tree and banister. This is not the work of elves that magically place all the decorations, but rather that of many volunteers. They are lead by none other than Mrs. Connie Peters.
As the Facilities Director, Mrs. Peters has been decorating Strub hall for Christmas for the past 10 years. Yet Christmas at Mayfield is way more than just her job… it's a gift.
 "It's a blank canvas. It's just magic, every year we do something different, it's never the same. Each year the decorations change and this year we added the Pike tree, sconce greenery, and a new tree to Mrs. Morin's office," remarks Peters. 
Where are the Christmas decorations when not in use during the holidays? Peters tells us that that she has "over 30 bins and bags of Christmas Decorations and they are stored in a closet on the fourth floor in the attic and that is our Christmas storage." Sounds like the North Pole! 
A highlight of Strub that many are noticing for the first time is the angel above the fireplace that is now illuminated for the holidays. "The angel has been up every year for the last 10 years I have been here. It's just unfortunate that with the way the room is lit and the dark paneling, you don't notice her. She's never been lit and we feel that she deserves to be enhanced for everyone to see her," says Peters. 
Another showstopper is the crèche (Nativity scene) in Connelly Chapel which was hand-carved in Italy for the sisters of the Society of the Holy Child and purchased in the 1950s. A second crèche resides to the right of the Christmas tree in Strub's entrance, a place chosen by the beloved Sr. Barbara Mullen. The Nativity Scene holds a special place in Holy Child schools and Mayfield purposefully places Jesus in the manger before Christmas to emphasize our focus on the Holy Child.
Decorating for Christmas is no easy task and can last upwards of 5 days—as Ms. Peters tells us, there is a "labor of love" that evolves throughout the process. She emphasizes the need to find a balance between decorating and also having the responsibility of being the Facilities Director, especially with the 100th Anniversary of Strub Hall this year. 
"The building tells us what it wants" and the decorating process only ends "when we are out of time. When open house starts, we are done," said Peters surveying her handiwork.