Mayfield's Senior AP Art Show in the art gallery showcased AP 2D Design and AP Photography students' incredible work. Our senior AP Art students include Kasani Freeman, Viviana Salazar, Kelsey Babcock, Sarah Brennan, Mia Mayer, and Lucia Derriman, all displaying art exploring jaw-dropping mediums such as mixed media collage, oil on canvas, and oil on board. 
Each student displayed two or three art pieces. Mayfield families and students who visited the show had the opportunity to be able to hear directly from the artists themselves about their inspirations and thought processes behind the artwork.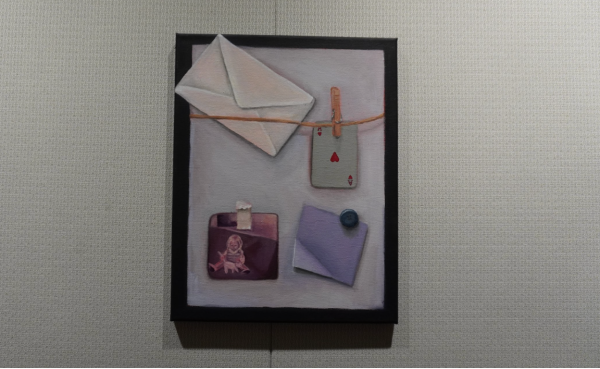 Mia Mayer's oil painting (pictured above) features still shots of different objects such as an envelope, a photograph of her mother as a child, a playing card, and a post-it. "This piece was one of the first occasions where my AP 2D Design class experimented with the medium of oil on canvas," said Mayer. Before creating the piece the process included "collect[ing] a bunch of objects from home that held meaning in some way," said Mayer.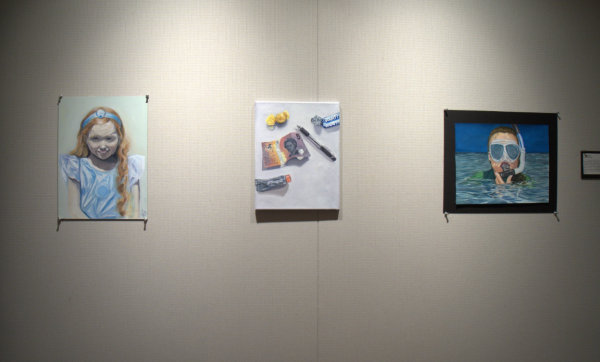 Lucia Derriman '24 kept her AP Art Portfolio in mind while producing her artwork (pictured above). "Going into certain pieces I was thinking more about what's personal to me," said Derriman.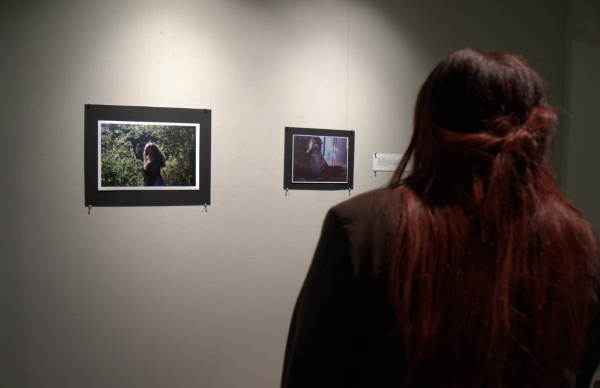 Kasani Freeman '24 displayed a photograph in the gallery (pictured above–image to the right) with layered images, one of hands in prayer and another of a statue of the Virgin Mary. 
"I made the piece at a time where I was really thinking about religion," said Freeman. "I've always been more connected to Mary than any other religious figure." Freeman explained she feels a connection to Mary more than any other religious figure,  "I've always thought of Mary as the patron saint of teenage girls," said Freeman.
The Senior AP Art students demonstrated their individuality and unique perspectives through their art pieces. If you haven't gotten the chance, make sure to stop and check out our senior artists' work in the art gallery. Check out the pictures below to get a sneak peak of the art gallery!