Taylor Swift Is Endlessly Successful, But Why?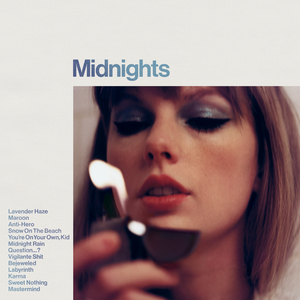 After years of anticipation, Taylor Swift's new Album, Midnights, is nothing short of magical. Taking the record for most number of streams within 24 hours, and being the first artist to occupy the entire global top 10 in a single week, Midnights definitely delivers; of course, so do all her other albums. Let's take a deeper 
look at what has made her successful in the past, and how they are reflected in her most recent album. 
Part of Taylor's marketing and success is her ability to personally connect with her listeners through her songs. From warning that "bandaids don't fix bullet holes" to rejoicing that "people think love's for show, but I would die for you in secret" she tells a story in each of her songs. 
Her music creates an environment for people to clarify their most difficult emotions on a more personal level, almost like she's telling you her experiences accompanied by a killer beat. After releasing Midnights, Taylor shares that each of her songs tell the story of "13 sleepless nights." By exposing her vulnerability via her music, she becomes familiar to her listeners, more than just another artist. In her newest album she continues this trend of emotional variety, juxtaposing music about new love, mystery, gaining independence, reminiscing on the past, and self empowerment. 
Taylor Swift, in many ways, defines a generation. Releasing her first album at 16-years-old, the artist has given us time to grow up with her, revering her as an older sibling figure who gives advice and pushes boundaries to lead by example. Because of her stubborn refusal to be limited, Taylor has accomplished more than many other artists, and serves as a physical role model for her fans. One of her biggest accomplishments and signature identifiers, is her success in multiple genres. Ranging from country folk in her debut album, to pop rock in "Reputation," and love ballads in "Speak Now," Taylor adds another layer of value to her name and her music. In completing what is considered by many to be impossible, Swift is an inspiration to her followers. 
Additionally, Taylor's popularity has grown as the puzzle of her career unfolds. Dropping Easter eggs years in advance and giving small hints along the way, fans use her music as a creative outlet for detective work and pop culture. By paying attention to her actions and words, we find how speeches from years before are paralleled in her music. An example would be her including "breathe in, breathe deep, breathe through, breathe out", lyrics from her 2022 hit "Labyrinth" in her NYU graduation speech. 
Considering the reasons for her success in the past, what makes Midnights so successful? It could be her genius marketing, her drought period of new music, or the pure determination of her fans. In Midnights, Taylor creates social media trends associated with her music, creating more "buzz" around her songs and drawing the attention of social media users. Returning to the pop genre, Swift combines her signature "synth pop" approach with the trending R&B style. While it's a familiar style for the artist, Swifties recognize the transition to the new "Midnights era." Phasing out of the cottage-core, indie pop mannerisms, Swift enters her new era of mystical curiosity, shooting music videos with more dim lighting, naming tracks "Lavender Haze", and collaborating with pop icon Lana Del Rey.