How to Host a Fabulous Friendsgiving
 It's finally November which means that the holidays are upon us. First up is Thanksgiving, and there's no better way to celebrate the holiday than with your friends. Friendsgiving is a great way to show appreciation to your loved ones and if you're the lucky friend hosting this year, you are in the right place. Today, I'm going to show you my favorite tips and tricks for hosting the perfect Friendsgiving. 
Without a doubt, the most important thing is the food because there's never a Friendsgiving without food. There are a couple ways to go about this. The first would obviously be to go classic Thanksgiving-turkey, ham, pie, mashed potatoes, the works. Another way to do this is to do a potluck where everyone brings their favorite dish. This can be fun as it can add some variety to the typical Thanksgiving meal. You can add guidelines for whatever each person is bringing or just have fun with it. My go-to appetizer is a charcuterie board, filled with your favorite meats, cheeses, and other fun things. Feel free to take inspiration from my board below or add your own flare. That's the great thing about charcuterie boards: you can be as creative as you'd like.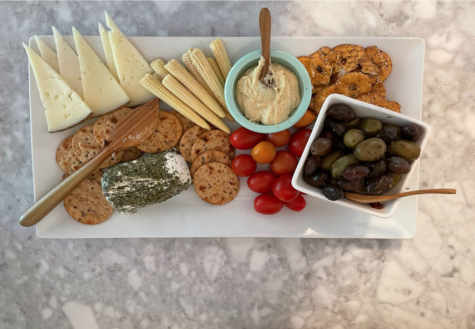 Next are the decorations! Embrace the fall spirit with some flower arrangements in pretty autumn colors like oranges and reds. Pick a cute tablecloth from Target or Home Goods as a pretty background. One of my favorite things to do is make place cards for my friends as it's the perfect finishing touch. 
Happy Thanksgiving!