Mayfield's Tradition of Graduation Dresses is Evolving
PASADENA, California– Women wearing white dresses to graduation has been a time-honored tradition since the 1800s. This tradition originally began to create uniformity among women, when they did not wear caps and gowns to graduation. High schools across the nation have been wearing white dresses during graduation since as early as 1900. Historically, women have also worn white dresses to distinguish themselves as vessels of purity and girlhood. Many alumni from all-girls schools in the Pasadena, California area have graduated in white dresses and long gloves, as opposed to a cap and gown. According to Mayfield Senior's Head of School, Kate Morin, "This is a tradition that has been going on since the beginning of the school." 
It is likely that this tradition has similar roots to other American traditions that involve white dresses. For instance, white dresses were typically worn by American suffragettes fighting for their right to vote. Another example of tradition is debutante balls, an event where young women are formally introduced into society. Debutantes, the young women being celebrated at these balls, are typically introduced to society in lavish white gowns and with a male escort. White in Western culture has long symbolized purity and innocence, two values often expected in women. Morin says that at Mayfield, wearing white dresses at commencement mirrors the white gowns worn at a christening or baptism.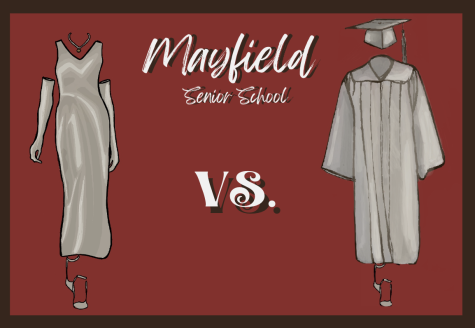 Debutante balls and celebrations became less prevalent with the emergence of the post World War II feminist movement; they still occur, however, and the featured young women still wear white dresses, largely due to a sense of tradition and history. 
The history of wearing caps and gowns to graduation is also one that can be traced back centuries, since the 1400s. Because the cap and gown was only worn at academic graduations, the outfit is synonymous with recognition and achievement. For many students, wearing a cap and gown (with or without honors chords) connotes success and pride, celebrating their accomplishments. Graduating in the same cap and gown outfit as one's peers is a practice that connects graduates across the nation, at all academic levels. This is similar to the connection felt by many Mayfield alumni, proud to graduate in the same outfit as their fellow cubs. 
Graduating in a white dress at Mayfield is a tradition that many are not ready to say goodbye to, yet there are students who have expressed a desire to deviate from the Mayfield tradition and graduate in a cap and gown. Administrators at Mayfield have been receptive to these desires, and in 2019 Mayfield graduates were given the option of foregoing a dress in favor of a gown. Morin says that this decision was made because "graduation is supposed to be a celebration, and something where everybody feels comfortable." 
The number of girls who choose to wear a gown instead of a dress to graduation has varied in recent years, but students greatly appreciate having the opportunity to make their own choice. Some students, such as Eva Gullon '22, are excited to maintain Mayfield's tradition because "it has existed for generations of Mayfield graduates, and it is a memory that alumni can share with their class and past graduates," Gullon said.