Why Demidevil Needs to Be Your Next Album Anthem
"F*** a princess I'm a king / Bow down and kiss on my ring," preaches radical and inspiring feminist singer Ashnikko as she opens her debut album Demidevil. If you're looking to sing along to shocking music, Ashnikko is ready to give you her own eerie yet catchy flair. Artist turned Tik Tok sensation through the release of her viral song "STUPID" ("stupid boy think that I need him") creates debates and "bangers" with every release. 
As a woman in the media and the music industry, Ashnikko has experienced her fair share of sexism and degradation in the workplace and beyond. Inspired by other female music icons in her childhood, Ashnikko had a mission to give others the confidence boost she herself got from music– "Power anthems," as she put it. 
Accomplishing this goal in her debut album Demidevil, Ashnikko symbolizes a mixture of sexuality, empowerment, and creepiness.The album starts strong with the hit song "Daisy," where Ashnikko transports listeners into her world of female dominance and glamor through her aggressive delivery. What starts as a frank confrontation to men ("He talks too much, he's too chatty") transitions into an unsettling chorus: "I'm crazy, but you like that, I bite back."
As the album progresses, women's independence is so prevalent that she may as well be labeled today's next up-and-coming radical girlboss. Though some may disagree with her vulgar delivery, with lyrics such as "I'm not shy, I'll say it/ I've been picturing you naked" in her song "Slumber Party," it's refreshing and electrifying to hear an artist preach about women having as much, and even more, power as men. 
Songs such as "Toxic" and "Deal with It" describe familiar difficulties with love and how men feel entitled to take credit for something they do not own: "Heard a rumor that you said you made me who I am/You think you're the man/You're so toxic". 
Demidevil discusses the faults of men that are easily dismissed in the media. Her approach of direct confrontation is shocking but also vital. Through the daring lyrics and Ashnikko's exposé, those who may have usually felt reserved come out of their shell, brought up by the sheer power and angst of her works. 
Though she utilizes strong language throughout every song, she still manages to get her point across in a way that encourages listeners to rise from their seats and sing along, screaming to "Cry" or reminiscing on broken hearts to "Good While It Lasted." Releasing new music, merch, and music videos, there's no denying fans and haters alike come back for more of Ashnikko's unique sound, maybe even out of pure curiosity to what the feminist will comment on next.
Leave a Comment
About the Contributor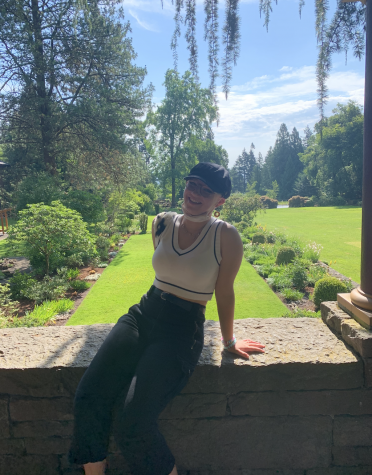 Drew Valentino, Staff Writer
Drew Valentino is excited to start her first year at the newspaper as a senior at Mayfield Senior School. She is highly involved with the arts, as Co-Head...