2022 Choreographer's Ball
After two years in the wings, dancers were able to hit the stage. 
Students, anxious and excited, were ready to perform after years of waiting and trudging through zoom classes. 
The year started out with the annual choreographer's ball. With seniors and juniors teams putting together their own show including scheduling, choreography, lighting, and costumes, it showcases various styles, talents, and levels of experience.
When dancers left for winter break January's tech week loomed in the distance. Upon return came the first obstacle: a new Covid-19 variant, Omicron brought a surge in infections which meant Mayfield's classes and activities were to be held online school for one week. While it afforded them some more time, dancers were faced with uncertainty about putting on the show which was ultimately postponed until later in the month. Dancers rehearsed online to make sure they were in shape in return. 
"Covid affected dance immensely," Jordan Kona '23 said. "First, we were forced to move our performance, then we had to reformat certain dances the day of the performance because certain dancers had gotten covid." 
"I had a lot of mixed feelings, I found out right before the show I wasn't going to be able to dance," Sophia Sagara '22 a choregrapher explained.
"I was sad, but also not too sad because I still got to be a part of it. It was nice getting to watch the dances for once instead of being in them, and really being able to see how all the hard work we put in since early September paid off."
Covid along with multiple injuries had two out of four seniors out. During her performance on the second night, Hannah Sherman '22  suffered an injury in the middle of the show.
"We had to adjust staging and choreography a bit, so I commend the choreographers for being able to make those quick changes and all the dancers for remembering the last-minute adjustments," Kaitlyn Baghdassarian '25 said. 
Despite the troubles, dancers enjoyed themselves and made memories that carried from the early months of choreography through tech week and to the end of the show. 
"I will remember how close I got with the girls in dance," Rachel Towner '2 said. "And how even though I was new everyone was welcoming and nice."  
Senior Sophia Sagara reminisced on her time in dance conservatory and reflected on how it shaped her Mayfield experience. 
"I would have no idea what my Mayfield experience would be like if I didn't do dance. It's where I met some great friends, and I got to be a part of a community that combined grades and talents, all over one combined interest," Sagara said. "Dance Conservatory is a part of me, and I don't know what I would be doing without it". 
The choreographer's ball was a show to remember, having four shows, dynamic choreography, and the revival of the stage.
Leave a Comment
About the Contributor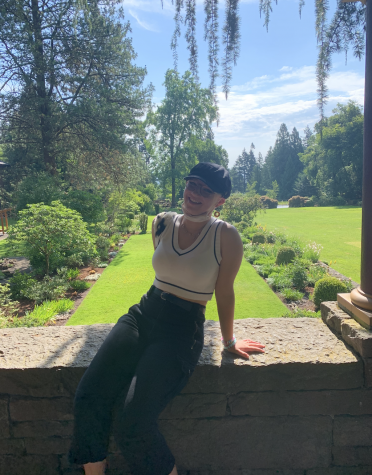 Drew Valentino, Staff Writer
Drew Valentino is excited to start her first year at the newspaper as a senior at Mayfield Senior School. She is highly involved with the arts, as Co-Head...