Gaslight, Gatekeep, Girlboss: Taylor Swift Edition
Gaslight, Gatekeep, Girlboss. A play on the saying "Live Laugh Love," the alliterative meme swept the internet in 2021. TikTok users and Twitter posters alike began using the words "gaslight," "gatekeep," and "girlboss" to describe obscure niches from room decor to different Spiderman franchises to Taylor Swift albums (in case you're wondering, folklore is gaslight, Reputation is gatekeep, and Lover is girlboss).
"The phrase is used to mock the stereotypical sentiments of the typical 'empowered feminist,' with each term holding a negative connotation in reference to female empowerment," wrote Know Your Meme.
But let's break down the three g's even further. Gaslighting is a form of manipulation in which one person or group makes another question their own reality. Gatekeeping is "when someone takes it upon themselves to decide who does or does not have access or rights to a community or identity," according to Urban Dictionary. For instance, if someone says they are a Taylor Swift fan, and another claims that they can't be a Taylor Swift fan unless they know the lyrics to every song. Finally, "girlboss" is a somewhat controversial term that often describes toxic, powerful, white-feminist female CEOs. The "girlboss" feels like she has overcome sexism by climbing up the power-ladder. 
While the meme seemingly makes light of gaslighting, gatekeeping, and girlbossing, In The Know argues that the meme is actually doing some real good, making it easier to identify issues of gaslighting, and destigmatizing calling out gaslighting, gatekeeping, and girlbossing.
So now that we have all that down, I've decided to do my own Gaslight Gatekeep Girlboss sorting of Taylor Swift songs. The inspiration for this comes from @moonybug on Tik Tok, and while I did agree with many of her categorizations, I made some changes based on my own opinion. Please note that not every Taylor Swift song is included, as some fit none of the categories, or fit too many categories. Without further ado, let us begin.
Gaslight. 
These are Taylor Swift songs where she creates a narrative that may or may not be true from the other, typically male, side of the story. Some key quintessential gaslight songs include "betty," which is a song from the teenage boy's perspective, trying to convince his girlfriend to take him back after he cheated on her. He claims "I'm only seventeen, I don't know anything, but I know I missed you." There's also "I Bet You Think About Me," which is gaslighting the other person into believing that the speaker is on their mind all the time. In "Better Than Revenge," the speaker paints herself as a victim to another girl who stole her boyfriend. The entirety of "You Belong With Me" is gaslighting her love into thinking that he belongs with her. Finally, in "Getaway Car," the speaker paints a narrative towards her ex-lover about why their relationship didn't work, stating that she used him as a getaway car from her old relationship, but she "didn't mean it" and he "didn't see it." Some other Taylor Swift songs that I classify as Gaslight include:
Bad Blood

cowboy like me

right where you left me

Speak Now

Mr. Perfectly Fine

We Are Never Ever Getting Back Together (also a Girl Boss song)

Look What You Made Me Do

This Is Why We Can't Have Nice Things

Back To December

Picture To Burn

Teardrops on My Guitar

The Other Side Of The Door

Superstar

We Were Happy

I Wish You Would

How You Get The Girl

Starlight

Afterglow (opposite)

Mirrorball

Champagne Problems

Tis the Damn Season

tolerate it

Wonderland

The Lucky One

No Body No Crime (also girl boss)

Ivy

Blank Space

Forever and always
Gatekeep.
Taylor Swift songs that fall under the "Gatekeep" category are songs where the speaker is so in love with her subject that she doesn't want anyone else to have him. For instance, in "Call It What You Want," the speaker describes how her "baby's fit like a daydream / walking with his head down / I'm the one he's walking too." In fact, she wants it known that he is her man so much that she states: "I want to wear his initial / On a chain round my neck." Additionally, the speaker in the song "august" mourns how her summer fling is not hers to keep; "You back beneath the sun / Wishin' I could write my name on it." In "Don't Blame Me," the speaker develops a metaphor for her lover, saying: "my drug is my baby / I'd be using for the rest of my life." In the song "Tim McGraw," the speaker makes it clear with the lines "When you think TIm McGraw / I hope you think of me;" she does not want him thinking about anyone else when he thinks about Tim McGraw. In "Paper Rings," the speaker is so in love with her man and so ready to commit that she would even "marry you with paper rings." Finally, in the song "Dress," the speaker emphasizes that she "doesn't want you like a best friend" and "you made your mark on me, golden tattoo." Some other songs that I classified as "Gatekeep" include:
Love Story

The Way I Loved You

King Of My Heart

the lakes

Lover

Miss Americana & The Heartbreak Prince

London Boy

Daylight

Stay Stay Stay

Message In A Bottle

End Game

Gorgeous

New Year's Day

Mine

Enchanted

Ours

Our Song

Mary's Song

Style

I'm Only Me When I'm with You

Today was a Fairytale

The Best Day

Untouchable

Sparks Fly

Everything Has Changed

Holy Ground

You Are In Love

This Love

I Know Places

… Ready For It

Delicate

Gorgeous

Dancing With our Hands Tied

I Think He Knows

Miss Americana and the Heartbreak Prince

It's Nice to Have a Friend

Seven

Invisible String

Peace

Gold Rush

Fearless

Cornelia Street

Stay Beautiful

Hey Stephen

Wildest Dreams

Willow
Girlboss.
Finally, "Girlboss" Taylor Swift songs are songs where she is either happy and living life to the fullest, or where she is taking some form of empowerment. For instance, in "Me!" Swift rejoices at how "I'm the only one of me / Baby, that's the fun of me," and is just very happy to be herself. In "Welcome To New York," Swift expresses her joy of a fresh start in New York, singing about how she feels that the city has "been waitin' for" her and "it's a new soundtrack, I could dance to this beat, beat forevermore." Then, in "Shake It Off," the speaker demonstrates her girlboss skill of not letting the haters get to her: "the hater's gonna shake… I'm just gonna shake it off." Swift continues this sentiment of independence in the song "I Forgot That You Existed," where she exclaims that she can't even remember her haters. And in "closure," Swift continues to revel in her independence, saying "I don't need your / closure." Finally, the epitome of "girlboss" comes when Swift calls out the sexism in the music industry, singing "If I was a man / Then I'd be the man … / They wouldn't shake their heads and question how much of this I deserve." The other songs I classified as "Girlboss" include:
You Need To Calm Down

22

the last great american dynasty

I Did Something Bad

Should've Said No

this is me trying

Long story short

it's time to go

Mean

Happiness

Begin Again

Long live

No Body No Crime

The 1

New Romantics

Mad woman
Leave a Comment
About the Contributor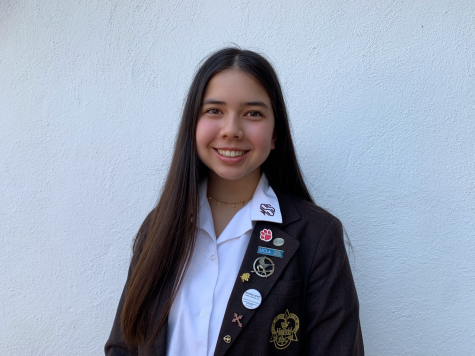 Le Anh Metzger, Staff Writer
Le Anh is a senior at Mayfield Senior School. She is thrilled to be on the Crier staff for her first year. She is also ASB Publicity Director, a member...