Kpop Relases This Month
With new Kpop groups debuting weekly, it's practically impossible to keep up with the music that gets released. Here's a rundown of recent top Kpop songs worth a spot on your playlist.
Starting strong, we have fan-favorite EVERGLOW's release of "Pirate." The six-member girl group debuted in 2019 with their hit song Bon Bon Chocolate and since then have created an upbeat brand that combines both the energy of K-pop, and the vocals and visuals of girl groups. You're sure to feel it through the very visuals of the music video with EVERGLOW's flashing lights, vibrant colors, choreography, and scenery. If you're looking for an energizing and exciting pop song to dance along to, be sure to give Pirate a listen. 
On the opposite side of the energy scale, TWICE, a South Korean girl group released a Japanese single "Doughnut," transporting listeners into a beautiful wintery wonderland. WIth the cover and music video depicting the members in a snowy landscape, the song combines the cheesiness of slow songs, with the wonders of winter spirits through their vocals and instrumentals. If you're looking for a song to add to your winter or possibly a sleeping playlist, consider the beauty of Doughnut. 
For a substantial listen and fans of the long-standing boy group, Monsta X, make sure to listen to their new album "The Dreaming." Their opening song, "One Day," is an all-English single that uses a reminiscent tone through the lyrics and relaxing beat that builds to the chorus. Accompanied by vocals and rapping, the group contrasts fluidity of rap and pop throughout transitioning from the upbeat "Blame Me," to the relaxing and solemn song "The Dreaming." The album appeals to K-pop and western music lovers alike. 
To finish off with some honorable mentions, Stray Kids released a hip-hop Christmas song "Christmas EveL," An undeniably catchy beat, but hard to listen to without laughing at the end where "Feliz Navidad" is repeated in an almost demonic voice. Maybe give it some time to grow on you… 
"TANG! <3" by Mino is a single that may get overlooked, but check it out if you're a fan of the rapper's mix of energy and fast-rapping verses. Though the chorus took a second to enjoy, the overall beat made it an enjoyable listen to have on a busy playlist. Maybe you don't want your full attention towards it, but enjoy it while cleaning the house. Sorry MIno…
If you're a Kpop die-hard fan, or simply open Spotify once a month, give a few of these songs a listen this month.
Leave a Comment
About the Contributor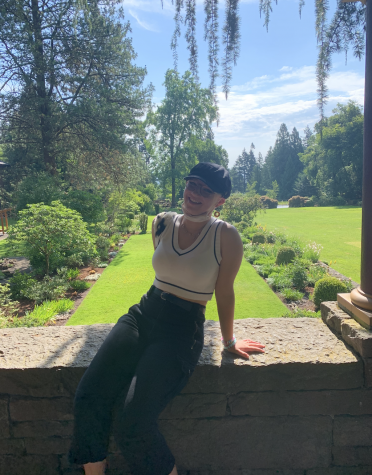 Drew Valentino, Staff Writer
Drew Valentino is excited to start her first year at the newspaper as a senior at Mayfield Senior School. She is highly involved with the arts, as Co-Head...