Anonymous Alerts: A New Safe Space for Students
Following the murder of George Floyd in the summer of 2020, Black Lives Matter protests sparked around the country, both in person and through the media. Many used Instagram as a tool to speak out about their own experiences with racism and injustice.  
The Instagram account @dearmayfield emerged as a platform for Mayfield Senior School's Black, Indigenous, and People of Color ("BIPOC") students, teachers, and alumni to share their experiences with racism at the school. As a way to move forward, striving to honor its diverse community and live up to Mayfield's Holy Child values, Mayfield recently implemented Anonymous Alerts, a method to address these instances of unchecked racism as they arise.
Anonymous Alerts allows students to report instances of bullying via app or web browser. Students can also establish anonymous 2-way communications with administrators so that schools can find out more details about the situation and what needs to be done. Mayfield has implemented Anonymous Alerts for students to report instances of bias, discrimination, and concerns related to justice, diversity, equity, & inclusion (JDEI). This could include but is not limited to online harassment, physical harassment, verbal harassment, and microaggressions.
Prior to Anonymous Alerts, during the 2019-2020 and 2020-2021 school year, the JDEI department had an anonymous Google Form that allowed students to report incidents of injustice. 
However, several students did not know about it.
"I didn't know there was a Google Form until they brought it up in Formation of Self this year, when introducing Anonymous Alerts," said Grace Gannon '22.
Those who did know about the resource said they didn't feel comfortable using it. 
"I did know about [the Google Form] and I have not reported. I actually don't think I knew where it was," said Lucy Martinez '22.
"I could see people being confused or unsure especially because they [Mayfield administrators] are expecting students to talk about super personal matters," Martinez said. "People would be like, 'okay, well who's reviewing this now because I don't want the entire administration to be looking at this thing that happened to me and another person."
Compared to the Google Form, Anonymous Alerts allows full transparency of which administrators have access to their submitted report.
Cassandra Gonzales, Director of JDEI and Sarah Briuer Boland, JDEI Coordinator, receive notifications when a student submits a report on Anonymous Alerts, and can then view and interact with the report. Additionally, Toi Treister (Assistant Head of School), Kate Morin (Head of School), Cynthia Riegsecker (Director of Finance), and Erika Mastrobuono (School Counselor) can view reports.
One of the most unique features of Anonymous Alerts is the ability to have text conversations between these school administrators and the anonymous reporter to prepare the next steps.
"We can ask, what would justice look like for you in this situation? What would make this right? What do you feel about these things that we're suggesting to fix it? Does it sound like the right thing to you? Have we done enough? Is this case closed," said Briuer Boland.
"Having the ability to do all of that [through Anonymous Alerts] really helps. I hope it helps students feel like what you're feeling and saying and thinking is important," said Briuer Boland.
Avalon Dela Rosa '22, co-head of Student Diversity Council, is happy that Mayfield is adopting new methods to encourage conversations about JDEI.
"I like to think of Mayfield as a second home and I feel that the safety of our school is further protected by the incorporation of Anonymous Alerts within our resources," said Dela Rosa.
Freshman Jaz Johnson agrees about the importance of Anonymous Alerts at Mayfield.
"I know that especially at a predominantly white, predominantly privileged school, people can feel judged if they have to talk in person with their identity because they don't want it to reflect on them in any way," Johnson said. "I think for people who are less comfortable with the staff to report it anonymously would be helpful."
Mayfield hopes that Anonymous Alerts will be a tool to open up conversations about JDEI issues and help students feel more welcome.
"If we're a Holy Child school and we are at a Christian community and we're a Catholic community, then a sense of dignity, recognizing the God and every single person, there's no waste in that, in my opinion," said Briuer Boland. "We want to build that. We want this community to be that we don't want people to feel that they have to leave any part of themselves outside the gate."
Leave a Comment
About the Contributor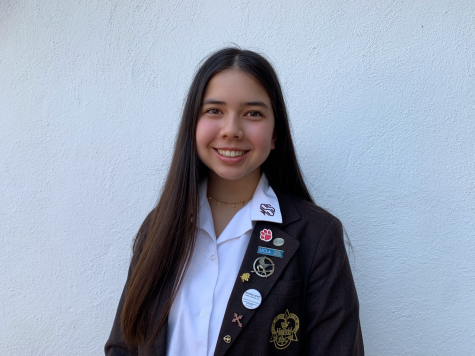 Le Anh Metzger, Staff Writer
Le Anh is a senior at Mayfield Senior School. She is thrilled to be on the Crier staff for her first year. She is also ASB Publicity Director, a member...