Omicron: The New COVID Mutation
Omicron, the B.1.1.529 variant, was first discovered on November 26, 2021. With the possibility of Omicron surging and the little knowledge we know about this variant, it is crucial that we continue following all the health protocols to keep our school community safe, including wearing our masks and opening the doors and windows in class. 
What do we currently know about Omicron?
It is not clear whether Omicron is more transmissible than other variants, yet the number of people testing positive with this new profound variant has risen in South Africa. The increasing hospitalization rate in South Africa can be due to the expanding number of infected individuals rather than the specific interaction with Omicron. All variants of COVID-19 can cause severe disease or death, especially vulnerable for those with vaccinations and health issues. 
In a press release posted by the County of Los Angeles Public Health, it is emphasized that "While we are still learning much about Omicron, we know enough about COVID to take steps now that can reduce transmission as we prepare to better understand the additional strategies that may needed to mitigate this new variant of concerns." 
Moderna CEO Stéphane Bancel highlights in a news release that the variant includes mutations "seen in the Delta variant…The combination of mutations represents a significant potential risk to accelerate the waning of natural and vaccine-induced immunity." If the current vaccine and booster shots are insufficient against the Omicron variant, Moderna is proposing boosting people with a larger dose. The company evaluates two multivalent booster candidates to see if they provide better protection against the new variant. Pfizer and Johnson and Johnson are both testing the effectiveness of their vaccine against Omicron and are expected to have their results within the next few weeks. 
Omicron Has Been Identified in California
On December 1, 2021, the first case of Omicron in California was identified in San Francisco. The traveler returned to the SFO International Airport, arriving from South Africa on November 22. They started to feel the symptoms of COVID on the 25th and tested positive on November 29. Dr. Charles Chiu, a doctor from the University of California San Francisco (UCSF), expedited the testing and sequencing of the COVID sample and commented how "Normally sequencing takes anywhere from several days to, in some cases, several weeks. We were able to sequence this virus within six hours."
On December 9, 2021, Los Angeles County reported its fourth case of the Omicron variant, possibly from a local transmission, unlike the previous travel-related infection in San Francisco. The first case of Omicron involved a person who had traveled to South Africa. The second and third case was confirmed on December 6, involving a University of Southern California student who had traveled to the East Coast for the Thanksgiving holiday and another who had recently traveled to West Africa. 
The omicron variant is triggering alarms globally due to its potential for increased infectiousness and vaccine evasion. Omicron has more mutations than the other variants, including the Delta variant dominating globally; however, it is uncertain if Omicron can overpower Delta. Public health experts and scientists are concerned that the extensive collection of mutations can make Omicron a new threat in a pandemic that many believed was winding down. Doctors in South Africa are reporting that patients have mild symptoms, but a majority are young adults with minor symptomatic effects of COVID. 
Peter Chin-Hong, an infectious disease specialist at UCSF, emphasizes, "Just like with the first case of COVID that was discovered on the Grand Princess cruise ship that was kept in the bay, it is a metaphor that the virus doesn't respect borders and we need to be continually vigilant but not give in to abject fear."
Leave a Comment
About the Contributor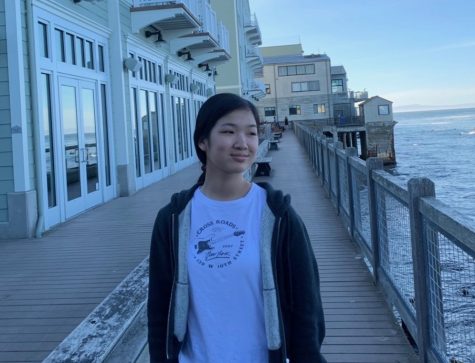 Heidi Teng, News Co-Editor-In-Chief/Assignment Manager
Heidi is a senior at Mayfield Senior School and is thrilled to be a part of Mayfield's Crier, serving as the News Co-Editor in Chief and Assignment Manager....