Friendships Fostered On the Courts
This year's fall sports teams pulled in historic wins for Mayfield. 
 The tennis team advanced all the way to the CIF Semifinals for the first time since 1988. It was an amazing season for tennis who won their 1st league title since 2017.
To delve into the electric spirit of sports, specifically the world of Mayfield tennis, I spoke with senior Michelle Cheng '22 who finished the season with fond memories of racquets in hand, aces scored, and winning serves. 
"My favorite tennis memory was when our team this year won our CIF Quarterfinal Match," Cheng said. "Being a part of this historic moment was incredibly rewarding, especially coming back from seasons where our team only made it to the first round of CIF. I am so proud of our team for being able to make it this far and I hope that next year they are able to go even further!"
With sports such as tennis making their way to the top of the CIF, or California Interscholastic Federation, matches, the team is extremely proud. While the Mayfield community celebrates winnings and awards, Cheng points to one's accomplishments beyond the victories. 
"I think that generally the concept of winning and losing is constantly overlooked," Cheng said. "While it obviously feels good to win, I think that as an athlete what we take away most is our overall performance during a game or match."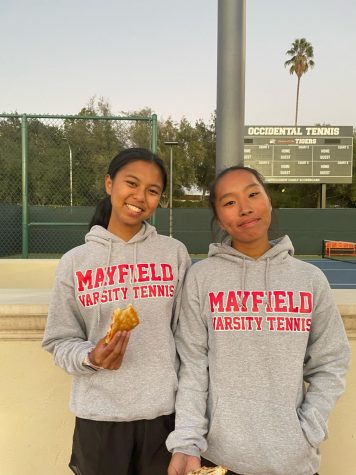 Team bonding, especially with her younger sister, Sheryl, stands out for Cheng as something she's most proud of rather than receiving any award.
"When we were younger, we tried playing doubles together but always ended up fighting and crying after every match," Cheng said. "Now as high schoolers, we were able to work with each other and win numerous matches and proved to ourselves that we are a force to be reckoned with."
Cheng also emphasized the true importance and impact of friendship among teammates. She has been a teammate of Mayfield's tennis team since freshman year and attributes her connection to the sport and its community to her closeness with Mayfield as a whole. As she reflects on having to leave the team, she spoke on the hardship of goodbyes. 
"[The team] has been able to forge such a special bond within the four months of playing and getting to know each other so it will definitely be a very hard goodbye," Cheng explained. 
"I especially am going to miss my coach, Silvana, who I have known since the beginning of my freshman year," she said. "She has taught me so much and I will miss her kind soul and optimistic spirit on and off the tennis court."
Michelle is one of the senior athletes that will be leaving Mayfield Senior this year, but not without leaving her mark on the campus. With achievements on the courts, as well as the impact she will leave on her teammates, it's evident sports bring people together. Mayfield celebrates athletes not just for their awards, but for the family they build within the school as well.