This year, the spookiest month will be enjoyed by celebrating Mayfield's community
For this year's Alumni Homecoming, Mayfield's History Club and Student Council members paired up to give tours to alumni classes ranging from the 1960s to the 2000s. The alumni were able to see the Strub renovation progress and some even explored parts of campus that were cut off when nuns were living on campus. All told, the events were a perfect blend of the past and the present.
There's no denying the spirit of the Halloween holiday that lies within all Mayfield students in one way or another. As we approach the spookiest holiday of the year, Angela Howell '76, Mayfield's Associate Head of School for Strategic Initiatives, and Mayfield History Club faculty advisor, shared some of the traditions surrounding Halloween at Mayfield. 
"Good Shepherd shelter was a center of service at our school during the Halloween season," recalled Howell. "Students would go down, participate in making crafts, bringing food and candy, and decorating pumpkins for a family party." 
One way we have continued our fall and Halloween traditions, said Howell, has been through the annual father-daughter night where students have dressed up with the dads and guardians and built lasting memories. 
"What I like about Mayfield's celebration is it's a time when we can be joyful," Howell said.
Sharing our community has always been a large part of what drives Mayfield's seasonal celebrations. Diversity Council's community presentation aimed to increase awareness about cultural appropriation. And honoring loved ones with the Latinas Unidas-sponsored Dia De Los Muertos ofrenda continues to add to our diverse perspective in our community. 
Said Howell, "Every generation of Mayfield girls has the opportunity to have their own sort of fun, make things their own, and make things current for today." 
The sweetest effort of the season started with the freshmen candy drive. The treats were followed closely with a costume drive held by the Arts Council for the children of the South Central Los Angeles Ministry Project (LAMP).
"We have been able to help live out Actions not Words by collecting costumes and accessories to be donated to the kids at LAMP," Dance Conservatory Arts Council representative, Lina Wallgren '24 said.
Arts Council is known for its Halloween festivities and the tradition of haunted houses. Last year's Covid-19 quarantine forced the group to use their collaborative creativity to expand the boundaries of Halloween into a virtual pumpkin carving contest and costume contest. Though off-campus, the activities encouraged students' artistry and Halloween spirit during a time of isolation. 
"It was a great way to celebrate the season, and a nice way to uphold festive traditions even during the pandemic," Le Anh Metzger '22 said she remembered carving pumpkins in an outdoors covid-safe activity allowed her some much-needed time with friends.
Current arts council co-heads, Lucy Martinez '22 and Drew Valentino '22 decided to incorporate the newly established tradition, this year, with an in-person costume contest and pumpkin decorating events. 
"Just that enthusiasm for the little things really adds to everyone's excitement and joy towards Halloween," Martinez said.
Paper garland decorating will be taking place during lunch October 22nd-26th in the art room. Physical decoration of pumpkins are planned for Oct. 28th, for those who participated in the garland decoration.
Everyone will be welcome to join in the festivities on Friday, Oct. 29th, when the fanciest pumpkins will be awarded. The school-wide costume contest and classroom trick-or-treating is sure to be a fun kickoff to a Happy Halloween weekend. 
##
Leave a Comment
About the Contributor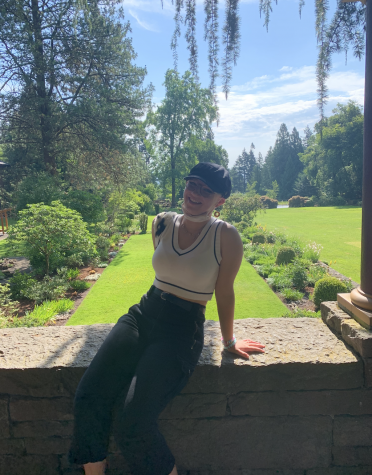 Drew Valentino, Staff Writer
Drew Valentino is excited to start her first year at the newspaper as a senior at Mayfield Senior School. She is highly involved with the arts, as Co-Head...