Girls Just Wanna Have Jobs
Have you ever wondered what Mayfield girls do beyond the campus gates? They apply themselves to so many activities! It's hard to keep track. 
When freshman Physics teacher, Mr. Billy Abdallah asked students to raise their hands at the service assembly, how many were raised for homework? For service? And how about jobs? With various motivations, such as looking for spending money, ways to help out their family, work experience, money for gas, etc., it's not much of a guess as to why high schoolers seem to believe high school is their prime time to obtain a job. 
This year, in particular, it seems that you can find some of our busy Mayfield students at the popular Handel's Homemade Ice-cream. 
"I wanted to be more independent, especially with money, and I wanted to be able to provide more for my mom," said Piper West '22, a current ice cream maker at the shop, describing her motivation for taking the position.
"Working has helped me with making new friends and I always think it's good practice to socialize," said West. "I also am a lot better at multitasking since I am frequently operating multiple machines at once." 
Nasim Afkhamnejad '22 who works at the Dignity health center in Glendale, helping in the labor and Delivery and Mother-Baby Units similarly noted the skills she learned at her workplace.  
"This experience has helped me get an idea of what work would be like in the medical field," Afkhamnejad said "I have been able to learn medical lingo and see how nurses and doctors operate."
Katherine Moses '22 said skills she acquired while working at her first job at the West Main Animal Hospital in Alhambra. 
"The most critical being productivity," Moses said. "As a veterinary assistant, there's always something needing to be done and no time available to waste."
Both Mayfield students shared that they have been able to gain life skills such as time management, have found ways to help the community around them, and are now able to offer job experience to their resumés.
Due to hardships caused by the virus, many job locations had to limit their number of employees by hiring fewer and laying off more.  
Both counted themselves lucky that COVID-19 restrictions didn't entirely limit their job opportunities.
"I originally applied to volunteer at Huntington in February of 2020," Afkhamnejad said,  but obviously because of Covid that didn't work out."
Moses similarly stated, "I had always wanted a real job in high school and, because COVID prohibited me from doing so last summer, I jumped at the chance of employment now."
As the LA community reopens with the large percentage of LA vaccinations, retail, restaurants, and small businesses are beginning to hire again. 
"I recommend Mayfield girls get a job," Piper West '22 said. "Work has allowed me to genuinely find a place with good people, experience with hard work, and help with social skills and networking." 
Leave a Comment
About the Contributor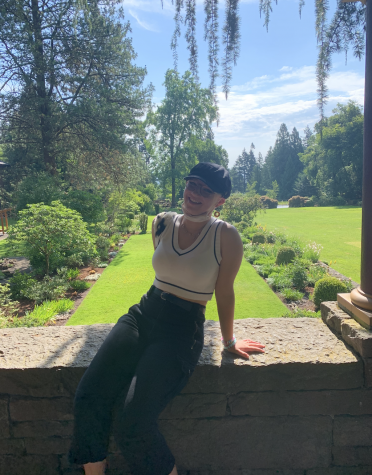 Drew Valentino, Staff Writer
Drew Valentino is excited to start her first year at the newspaper as a senior at Mayfield Senior School. She is highly involved with the arts, as Co-Head...