Mon's Fashion Inspirations
Hello everyone. Today I will be sharing my fashion inspirations from movies and TV shows. Each character is so special in their own way, just like their amazing clothing styles and wardrobes.
Fictional Character Fashion Inspirations: *but I wish they were real*
Friends: Phoebe Buffay (Lisa Kudrow)
I have one word to describe Phoebe Buffay: iconic. She is my #1 ultimate fashion inspiration. She is so funny, one of a kind, and an icon. There is not one outfit in the entire series that I don't love. Her hair is always so unique and on point, often styled with cute barrettes and clips. Her style is very much bohemian and hippie-like. She is always rocking a lot of accessories and jewelry: SO many rings, I love it. She wears lots of fun patterns, maxi skirts, bright-colored coats, and the BEST purses I have ever seen in my life. 
13 Going on 30: Jenna Rink (Jennifer Garner)
I think we can all agree that Jenna's outfits in 13 Going on 30 are on point. She wears lots of floral shirts, patterned skirts, slip dresses, simple cardigans, and tank tops. I love the classic hairstyles she wears throughout the movie too (very 2000s). My favorite is the look where she has two chopsticks in her hair. I'm still trying to master this technique. 
The Breakfast Club: Claire Standish (Molly Ringwald)
Now I know what you may be thinking: Claire basically wears only one outfit (pink blouse and brown skirt)  throughout the whole movie. But this ONE outfit needed a spot on my list. Here's her outfit break-down: V-neck pink blouse, brown belt, brown skirt, brown knee-high boots, and brown leather jacket (in the beginning of the movie). Lots of brown going on with the outfit but in my opinion, I love it. Judging by this outfit, I can imagine that the rest of her fashion taste is just as fantastic.
10 Things I Hate About You: Bianca Stratford (Larisa Oleynik) and Kat Stratford (Julia Stiles)
Bianca Stratford is bubbly and popular. Kat Stratford is an antisocial feminist and super cool guitarist. We can see their distinct personalities through their fashion sense. Bianca wears floral dresses (I love her square-necked, red dress that she wears to Bogey Lowenstein's party) and skirts, cardigans, tank tops, and tees. My favorite outfit that she wears is the "on-her-way to go sailing with Cameron" outfit. Kat and Bianca's fashion styles are so different. This is what makes me love every single one of their outfits so much. I know people have mixed opinions about low-rise pants, but I LOVE them. Especially in this movie. The outfits she wears mostly consist of long sleeve tees, tank tops, light sweaters, low-rise and cargo pants. Side note: my next purchase has to be a pair of platform sandals because Kat literally wore them so well in the movie. Kat's friend, Mandella, also deserves some recognition because her style is astounding!
Mamma Mia! Here We Go Again: Young Donna Sheridan (Lily James)
Young Donna Sheridan's style gives me major Free People vibes, and I'm living for it. She wears a lot of yellow, maxi skirts, and denim. Denim shorts, overalls, pants, and jackets. I love the teal hat she wears with the reddish-pink crochet sweater in the movie. I would take inspiration from her outfits and wear them on a trip to Greece because nothing would be more perfect. Seriously.
Lizzy McGuire: Lizzy McGuire (Hilary Duff) 
If I were a fictional character, I would want to be friends with Lizzy McGuire… who wouldn't? She wears a plethora of graphic tees, colorful headbands, chokers, bright pants, and statement jewelry pieces. I have a feeling that what I love most about Lizzy's outfits is all of the accessories she wears with them. She is practically always coordinating them with the outfit itself so it just ties everything up so perfectly. Her accessories make her outfits that are already lovely 100x MORE lovely. 
Leave a Comment
About the Contributor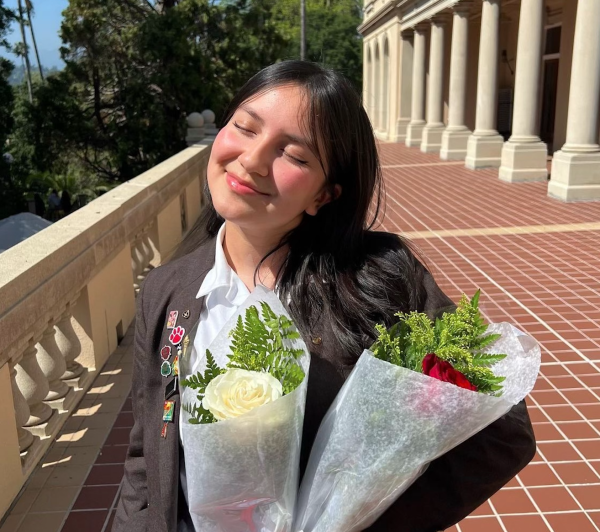 Monica Zepeda, Co-Editor-In-Chief
Monica Zepeda is a senior at Mayfield Senior School. She joined the Mayfield Crier as a freshman and as a senior, she will serve as Co-Editor-in-Chief...