Three-day Choir Retreat takes an unexpected turn as fire burns to the east of Three Rivers: A Singer's Perspective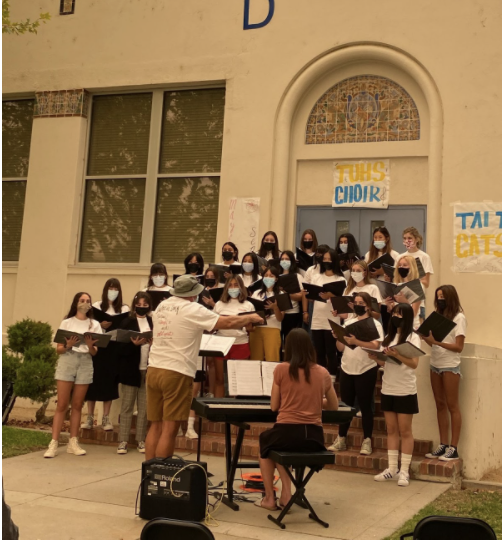 I was already planning to pack my sleeping bag, toiletries, and favorite stuffed animal after school when I found out my weekend wasn't going to turn out as planned. To my surprise, Mr. Andrew Alvarez, our vocal music teacher, notified us that Hartland Christian Camp, where we had planned to stay overnight, had received an evacuation warning because of a fire that was burning in close proximity. 
At that time the area was experiencing poor air quality and was under an evacuation warning due to the Windy Fire in Tulare County. Although I was saddened by the fact that our overnight stay was cancelled, I was still joyful that I would be able to spend a day with my sisters in song. The 2021 annual choir retreat may have been very different, but there is no doubt that it was still absolutely legendary and incredibly fun.
Each fall, Mayfield's choir students attend an annual retreat. It's usually a weekend where girls stay overnight at a location and practice singing the music assigned that year. The goal of the retreat is to have girls create special bonds and better relationships with each other. Union is so key in a choir which is why this aspect is built upon throughout the whole school year. 
During these retreats, the choir also participates in choral exchanges, which are essentially visits to sing at different schools. It's a chance for girls to perform in front of other choir students while also being able to listen to the talented singers who are student members of the choral groups at the host school. 
Though our overnight was cancelled, on September 24, Mayfield's choir students and choir director,  Andrew Alvarez, and faculty chaperones, Katie Waferling, Maryanne Householder, and Teri Gonzales, were up bright and early to greet the arriving choir members at 6:00 a.m.. We stopped for some breakfast at a McDonald's along the way before arriving at the location of our first choral exchange. I could definitely say that I was a bit nervous, but the delicious breakfast I ate got rid of my jitters! 
Our first stop was Taft Union High School (TUHS) located in Taft, California. We met Mr. Alvarez's best friend, who was the choir instructor at TUHS. We sang for the choir students, and they also sang for us. They were an absolutely fantastic group. 
Our next stop was Bakersfield, California. There we spent some free time, shopping and eating lunch with friends in The Marketplace. From there, we departed for Centennial High School, also located in Bakersfield. At Centennial, we had our second choral exchange with the choir students. We also played the game called Pass the Beat Around. In my opinion, it was a lot more nerve-wracking than it sounds! The students at Centennial were also so amazing and musically united as a choir. 
Gray smoke with a blood-red sun in the sky was noticeable throughout the day. Both Taft and Bakersfield had unsafe amounts of smoke in the air, but it didn't stop us from doing our best when singing and having a good time.
After our choral exchange at Centennial High School, we embarked on our journey back home. The day was filled with memories and laughs that I will never forget. Mayfield's choir members were definitely able to bond and create stronger friendships, despite the trip being cut short. I seriously cannot wait for the next choir trip!
On behalf of all of Mayfield's choir members, I would like to thank Mr. Alvarez, Ms. Wafe, Ms. Householder, and Ms. Gonzales for keeping us safe and cared-for during our trip. I would also like to thank Taft Union High School and Centennial High School for having us. Let us keep those affected by the fires occurring in our prayers.
Leave a Comment
About the Contributor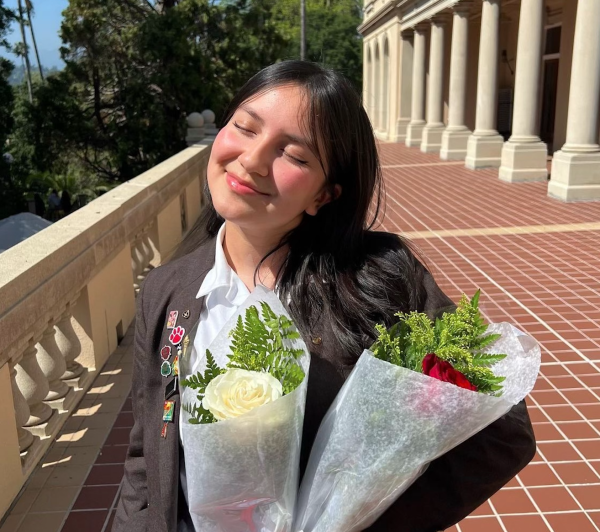 Monica Zepeda, Co-Editor-In-Chief
Monica Zepeda is a senior at Mayfield Senior School. She joined the Mayfield Crier as a freshman and as a senior, she will serve as Co-Editor-in-Chief...