Student Council Election Results
Following a year of remote learning, Mayfield students could not gather in the gym as they usually do to hear their fellow Cubs deliver riveting election speeches, but that did not stop the elections for the 2021-2022 Student Council from taking place virtually. Associated Student Body (ASB) elections were held on April 14th and Class Officer elections were held on April 21st, both on Flipgrid.   
Mayfield's Student Council officers are responsible for leading the school in spirited activities, planning events related to the school year's theme, and organizing Spirit Week, among other responsibilities. Congratulations to all the candidates. Here are our 2021-2022 Student Council officers: 
ASB President — Maria Dilbeck '22
ASB Vice President — Hannah Sherman '22
ASB Secretary — Sophia Sagara '22
ASB Treasurer — Nasim Afkhamnejad '22
ASB Publicity — Le Anh Metzger '22
ASB Alumnae Representative — Holly Gmelich '23
ASB Activities Directors — Sade Falese '23 and Rhea Gerontides '23
ASB Club Coordinator — Kate Grinnell '23
Senior Class President — Avalon Dela Rosa '22
Senior Class Vice President — Lily Fontes '22
Senior Class Representative — Amelia Velasquez '22
Junior Class President — Sicily Keyes '23
Junior Class Vice President — Cami Pidoux '23
Junior Class Representative — Caroline Squire '23
Sophomore Class President — Holly Hillman '24
Sophomore Class Vice President — Monica Zepeda '24
Sophomore Class Representative — Erin Michelena '24
Current ASB President Mariana Trujillo '21 offered the incoming student council some advice for the 2021-2022 school year. "Try to bring the community even closer together than before," Trujillo said. "I think being a part of Student Council is a wonderful thing and we have a job as Student Council to continue keeping those traditions alive. Have fun with it and it will be great next year."
Congratulations to our 2021-2022 Student Council officers!
About the Writer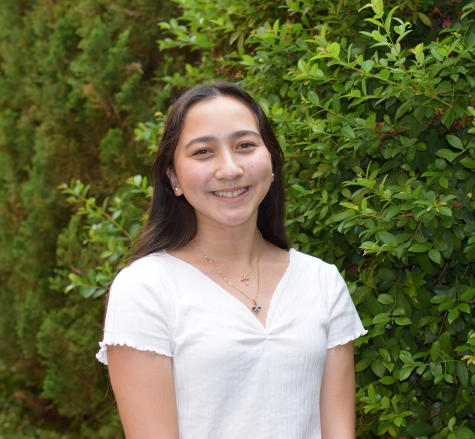 Hannah Sherman, Online Editor-In-Chief
Hannah is a senior at Mayfield Senior School and is thrilled to be a part of The Mayfield Crier staff for her fourth year as Online Editor in Chief. Hannah...