Back to Bellefontaine: From Freshmen Perspectives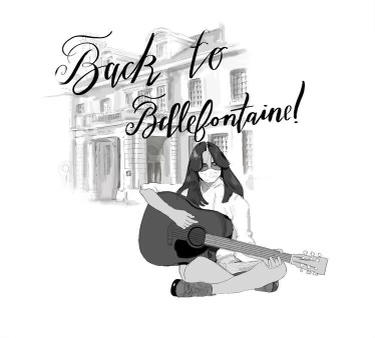 You heard me right everyone — Mayfield's Cubs are back at Bellefontaine! As a freshman who had yet to attend classes on campus, I cannot begin to express how excited I am to be here. I'm sure the whole Class of 2024 is feeling a blend of emotions as well. I am going to be sharing my personal feelings on my return back to campus, along with some of my classmates' thoughts and what they are thinking. 
The thing I am the most concerned about is the freakishly early alarm I hear on the days I'm going on campus. Sadly, I will no longer be able to roll out of bed and onto my laptop. One of the things I am the most excited about, however, is waking up and putting on my uniform. I have literally been waiting so long to do this, and I miss the feeling. The best thing is being around people that I've only ever seen in 2-D for months now. I absolutely love eating lunch on the North Lawn which is what I consider mini picnics (socially distanced). Most of all I am thrilled that I am experiencing a whole new atmosphere surrounded by my fellow Cubs at Mayfield.
Other freshmen, like me, have mixed feelings about school on campus.
"I am a little nervous to return to campus," said Emily Parry '24. "Mostly because I have never really been," but she said she was "excited to see and meet people." 
I completely agree with her because students who haven't been on campus for regular classes may have the fear of not being able to find their classes or getting lost. I know I sure did. Luckily, I haven't had much trouble finding my way around school. 
 "As much as I like sleeping in and having certain freedoms and comfort at home," said Lucia Derriman '24, "I think school can boost my productivity and excitement to learn in a different environment." One thing that comes with staying in the comfort of my home is being able to get a snack in less than 30 seconds. Being physically present at school is definitely getting me back into the proper rhythm of things, such as waking up early, making my lunch, and putting on my backpack every day (something we literally have not done in a year!).
Madi Herrera expressed her anticipation when she stated, "I am excited to see all my friends and teachers in person." Seeing people in person is obviously a lot different than through a screen. In my opinion, I find it a lot easier to hold a conversation in person because there's less awkwardness and "what do I say next?" thought bubbles in our head.  
Kelsey Babcock mentions that she is excited to "get to know everyone better." Being on campus is the ultimate opportunity to really get to know our classmates — their favorite TV show, favorite piece of Mayfield merch, and even their pet's name.
SNIPPET AHEAD:
To conclude, I am going to share the skeleton (which means that the chords are not official, it basically gives me a rough idea of what I'm going for) of an original song which I have titled "second home at last". This song is about going to school on Mayfield's campus for the first time. I hope you like it!
I hope everyone has a wonderful time and fun on campus!! GO CUBS!