Did the Golden Globes Have Enough BIPOC Representation?
PASADENA, California– The Golden Globes, the award show that is not quite as big as the Oscars but you still will tune in to the beginning because you want to see Tina Fey and Amy Poehler give their humorous monologues, was, as per usual, met with praise by some, and disappointment and criticism by others. The Golden Globes made history as they were split between New York City and Beverly Hills with an in-person audience of mainly first responders and medical workers. This year, after the rise of the Black Lives Matter Movement during the summer of 2020, the Golden Globes were held under an even larger microscope than usual as media outlets and social media users expected to see more diversity in the nominees. The question that people are trying to answer is: was there enough diversity and representation at the Golden Globes this year? What does this mean for the Oscars? 
Nominees for the Golden Globes are decided every year by the Hollywood Foreign Press Association, whose mission is "To establish favorable relations and cultural ties between foreign countries and the United States of America". This year, the HFPA faced criticism for their lack of diversity as there are no Black members among the 87 journalists of the organization. Even the hosts of the televised event, Poehler and Fey, criticized the HFPA by making jokes during the opening monologue calling out the lack of diversity among nominees. 
"Look, a lot of flashy garbage got nominated, but that happens," Poehler said.  "That's, like, their thing. But a number of Black actors and Black-lead projects were overlooked." 
Fey made a point to call for more representation. "Even with stupid things, inclusivity is important, and there are no Black members of the Hollywood Foreign Press," the comedian said.  "I realize, HFPA, maybe you didn't get the memo, because your work place is the back booth of a French McDonald's, but you gotta change that, so here's to changing that." Following the ceremony on February 28th, the HFPA released a statement: "We are committed to achieving these objectives in order to increase transparency in our organization and build a more inclusive community." 
Diversity in Golden Globes nominations must also improve. It is important to note that Chloé  Zhao was the first woman of Asian heritage and first woman of color to win Best Director at the Globes this year for her film Nomadland. In addition, three Black film actors won Golden Globes this year: Daniel Kaluuya (Judas and the Black Messiah) for supporting film actor, John Boyega (Small Axe) for supporting TV actor, and Chadwick Boseman (Ma Rainey's Black Bottom) for lead actor in a drama film. This year's Golden Globes also awarded lead actress in a drama film to Andra Day for The United States vs. Billie Holiday, making Day the second Black woman to ever receive that award. 
There were many performers of color who were unrecognized this year, especially in the television sector of the Golden Globes. Only three Latinx performers were recognized at the award show this year. Lin Manuel-Miranda was nominated for best actor in a motion picture, musical, or comedy for his character of Alexander Hamilton in the hit musical movie, Hamilton, on Disney plus. Anya Taylor-Joy, an Argentinian actress, was nominated for best actress for her performance in the movie Emma and won the award for best actress in a limited series for her role as Beth in the Netflix show The Queen's Gambit. While the wins for Taylor-Joy — a white passing Latina —  were monumental for the Latinx community, some activists and critics feel that Latinx actors with a darker complexion also deserved nominations. 
Overall, the Golden Globes must do better to highlight and recognize the creativity and performances of BIPOC (Black, Idengionus, People of Color) in years to come. Instead of nominating shows like Emily in Paris, a superficial series riddled with microaggressions against the Chinese culture and ignorant remarks about French culture, or highlighting offensive movies like Sia's Music, a movie that creates a caricature of the austic people, the HFPA should recognize more influential art by BIPOC. There is always more room for BIPOC representation in the entertainment industry and it is the job of award shows like the Golden Globes and the Oscars to recognize their lack of diversity and fix it. As the Oscars come up around the corner, viewers should take note of the diversity of nominations and speak out by asking for more representation of BIPOC.
About the Contributor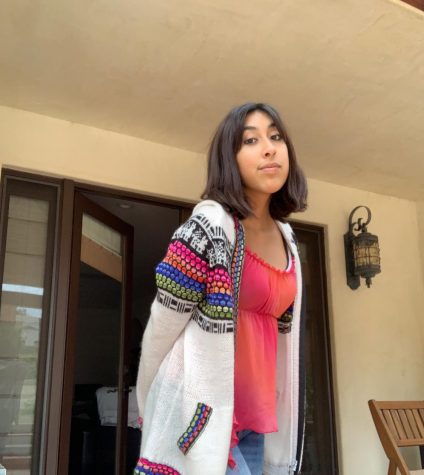 Madison Rojas, Entertainment & Diversity Editor
Madison Rojas is a sophomore at Mayfield Senior School. She serves as a staff writer and satire columnist for The Mayfield Crier. In addition, Madison...