Cami Árboles: Yogi, Small Business Owner, and Ikigai Fan
Hello! Thank you for joining me again. This week, I'm writing about the amazing, spectacularly talented and wise artist, coach, activist, and entrepreneur Cami Árboles (Mayfield '16, Yale '20), who spoke with FiF about her small business and her path of self-discovery. 
The Mind Body Spirit Collective, that Árboles founded in the summer of 2020, started as a "21-day holistic wellness and yoga program for women, femmes, and non-binary folks." It's a health and wellness collective made to deepen "relationship[s] with the physical self through yoga," and foster "abundance mindsets" through meditative and reflective spirituality practices. 
Árboles's original post-grad plans were to move to New York, but all that changed in a pandemic."I signed with an agent to literally start doing auditions for Broadway," said Árboles.  "But guess what? Live theater doesn't exist!" Pre-pandemic, one of Árboles' jobs at Yale was teaching yoga classes, so when life moved online, she started doing yoga on Instagram Live video streams.
"People would come to the yoga classes, and then people would start requesting things, like a series on getting splits or backbends," Árboles said. "I really had to dig within and think, 'What are my talents? What's my Ikigai?' And I kind of created the opportunity for myself." 
Ikigai, which translates to "a reason for being," is a Japanese concept which, as Árboles detailed, maps out the intersection of "what you can do, what you love, what the world needs, and what you can be paid for." If we focus too much energy on any one of those individual categories, life becomes unbalanced, and ultimately not as meaningful or successful as it should be. For those of us considering college and majors, Ikigai is a reminder of what we should keep in mind as we enter the next stage of our lives: the necessity of equality between passion, mission, vocation, and profession.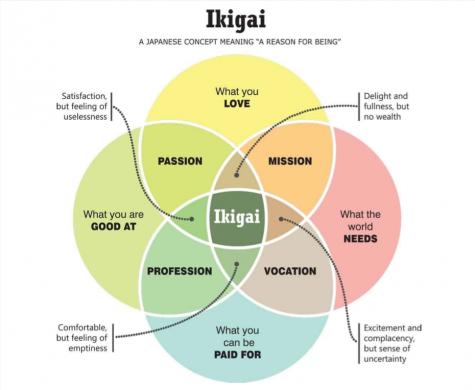 With this in mind, Árboles decided that Mind Body Spirit was something that checked all of Ikigai's boxes.
"I love teaching yoga, I'm good at teaching it, the world obviously needs it, and it is also something that I can honestly be paid for," Árboles said 
She designed her program to be centered around the community of "mutual accountability" that she had been exposed to at Yale. There, she learned how important "having a group where people are holding you accountable and supporting you" was. 
"I also wanted to make it financially accessible," Árboles said, "and I want girls my age to be able to pay for it." 
One day, she decided to just "go for it" and create the promotional materials.
"I was literally thinking that maybe ten people would sign up — over 60 people signed up!" What started as a $60, three-week program has grown to be $88.88 for a full month, with hundreds of participants who rave about its efficacy and enlightening quality. 
And so for entrepreneurs, budding and experienced, Árboles extols us to use her mantra: flow, don't force. "When I say flow, don't force, I mean Mind Body Spirit happened really organically for me," she says. It wasn't perfect the first time, but by using her growth mindset (a skill Árboles emphasizes she learned at Mayfield), she was able to say to herself, "It's okay if I fail." 
Her final piece of advice for us? "It sounds so cheesy," Árboles reiterated, "but you literally just have to go for it and be brave." 
I hope that if you're thinking of embarking on your own business endeavor, no matter the scale, you take Árboles' spirit of creativity and balance with you. Remember your target audience's needs and wants. Have the confidence to get started, and the humility to keep learning along the way, even if you might initially fail. Most importantly, remember Ikigai — your personal passion, mission, vocation, and profession — and its importance in the context of your future life.
Financially yours, 
Karissa