14 Hours of Math: Mayfield Cubs Compete in M3 Challenge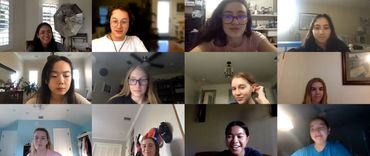 Imagine it is almost 7:00 a.m. on a Saturday. You sit down at your desk and log into Zoom to see four other faces that appear groggy but determined. There is a timer in the top right hand corner of your computer reading 14:00. It's a clock ready to countdown the minutes over the next fourteen hours. Consider that this isn't a fantasy, but what actually happened on February 27th, when 10 Mayfield cubs synced to a similar timer to compete in the MathWorks Math Modeling Challenge. 
The annual MathWorks Math Modeling Challenge, or the M3 Challenge, tasks a team of students with answering three open-ended math modeling questions in one day — 14 hours that is. All three questions are centered around a broader global issue that the students use mathematical modeling to solve. The students are expected to produce a 20-page paper detailing their research and the workings of their math models at the end of the challenge. The competition gives students the experience of creatively applying math to the real-world while working as a team. 
A vital part of the M3 challenge is the collaboration that goes into developing mathematical solutions to problems. And not only is it necessary, but according to the Cubs, teamwork is what makes M3 such an enriching experience. 
"Getting to a satisfying conclusion is always a plus, but working through it with your team members is the best part," Ysabelle Magat '21 said. 
This year, two Mayfield teams of juniors and seniors competed in the challenge: Frances Burton '21, Elise Kingston '21, Sophia Labrador '21, Ysabelle Magat  '21, Kate Parry '21, Sammi Pratt '21, Grace Brewer '22, Katherine Moses '22, Hannah Sherman '22 and Kerry Zhang '22. 
This is the fourth year that Mayfield teams have competed in the M3 Challenge. Ordinarily, the Cubs would have been able to gather on-campus and develop their math models while all being in the same room. However, the competition was done virtually through Zoom this year due to COVID-19 restrictions. 
"My favorite part of the challenge was on the actual competition day when our team really came together to tackle the problem," Grace Brewer '22 said. 
The 2021 M3 Challenge question dealt with internet access and broadband usage, important and timely issues amidst the COVID-19 pandemic when quality access to the internet has become even more important for those learning and working from home. The first part of the competition challenged the Cubs with creating math models to predict the cost of bandwidth in the United States and the United Kingdom over the next 10 years. In the second part of the challenge, they were asked to develop models to predict individual internet costs based on demographics. Lastly, in the third part of the challenge, both teams designed optimal plans for placing cellular nodes across three given regions with varying populations. 
"Completing this challenge completely online was difficult, but on the day of the competition we were really able to overcome this challenge and work together to solve the problem" Brewer said. "Creating a solution in the 14 hour time period, despite the challenges, was very satisfying and rewarding in the end." 
In the seven months leading up to the challenge, all ten Cubs met every Wednesday evening for two hours. They were coached by Elisa Gonzales '19, a sophomore at Harvard University and member of Mayfield's 2019 M3 team, and their faculty advisor Michael Dimen. At these meetings, the Cubs were introduced to a variety of math models such as linear regression, SIRS, and probabilistic models. 
The M3 competition stretches students to use the math and knowledge they already have in innovative and creative ways to create their models. The 2020 challenge problem had to do with electric versus diesel trucks and Magat's team incorporated their science knowledge of population growth from AP Bio to develop their model.
"Because I didn't have an abundance of math knowledge going in, it allowed me to be creative with what I did know," Magat said. 
 By viewing the diesel trucks as a growing species, Magat's teams utilized the logistic model they had learned in biology — which models population growth — in order to build their math model about the growth of diesel trucks. 
Participating in the M3 Competition allows students to use their knowledge of a variety of different subjects when creating their math solutions. While the competition is largely based on mathematics, it also includes research, writing, science, and coding. 
For students interested in joining Mayfield's M3 team in the future, Ysabelle Magat '21 and Grace Brewer '22 share the following advice:
"Never be afraid to admit that you don't know something and always be open to the idea that you could be wrong," Magat said. "It doesn't matter your skill level going in as long as you really have that endurance and perseverance to get through it you can go just as far as anyone else can." 
"The biggest piece of advice I would give is to not shy away from discomfort and challenges, but instead embrace them," Brewer said. "This challenge requires a strong growth mindset in the sense that the solution is not arrived at easily so thinking outside the box and embracing the discomfort of doing this is crucial to success." 
Both Mayfield teams were one of the 100 math modeling teams that progressed into the second round of judging out of the 535 teams that competed in the M3 Challenge. And on March 22, both Mayfield teams got the news that their papers were chosen for honorable mention awards. Congratulations to Mayfield's math modelers!