Yunah Lee – CFO Powerhouse and Success Mentor – of GOAT Group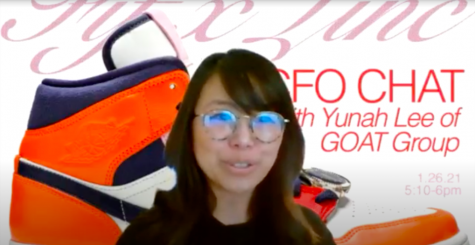 Hello. Guess what? I'm back. This week, we're talking about Yunah Lee, the GOAT Group CFO. GOAT is a luxury e-commerce sneaker/streetwear platform offering both retail and resale services. They serve 30 million customers in 165 countries. I interned remotely at GOAT over the summer, so I'm a little biased, but I think it has a very bright future in promoting fashion and culture, centered around accessibility in our digital age. 
Lee graduated from the University of California, Berkeley with a Bachelor's in Economics, worked in investment banking at Citi, Morgan Stanley, and at Endeavor Capital, and started her own company in New York (more on this later). She then worked at Fullscreen (with my dad, coincidentally), and joined GOAT when it was still a wee startup in 2017, and not yet a company valued at 1.75 billion (sheesh!). So, I knew I wanted to have a conversation with Lee. 
Obviously, her finance acumen spans far and wide. But I also wanted to get a non-male speaker to help to broaden the perspective for the Loyola boys who are members of the Investment Club. If you've ever talked to them, you know it's something they need. Desperately. So I reached out to Lee, did my thing, and we had an amazing meeting with 80 (80!!!!) attendees. 
No need for applause. But here's what I learned: 
Lee had a lot to say about what it takes to be a standout person, both in college and beyond. 
"It's so critically important to understand how to work in a cross-functional team — that can happen whether you're working at a grocery store or on a marketing team," said Lee. "Be very thoughtful and considerate in every sort of working environment," Lee stressed, "because we never know how we might be able to help others, or how they might be able to help us."
"Communication is difficult when you're in a growing organization or a larger company," said Lee. "Being able to precisely communicate objectives, needs, and questions is very important." 
Finally, Lee touched upon the importance of having the spirit of helpfulness, the spirit of generosity, and the desire to pitch in whenever you can. 
"You have no idea how appreciated it is, at every level, whether you're the CEO or a grocery bagger," said Lee. "If you're approached by somebody who has that attitude and character, it indicates that you have a desire to learn beyond your scope." 
While all of that will be inevitably helpful in the future, right now, Lee says that we should focus on getting as close to our interests as we can, even if in daily life. For me, starting a column is a great example of this. She said we should focus on self-educating on our interests as well.  I might start reading Lee's book recommendation, The Psychology of Money, this weekend if I have the chance to. Whatever that interest is for you, Lee would tell you to start exploring it as soon as possible. 
As for being a female professional in a male-dominated field, Lee had a lot to say. She recounted a personally enlightening story about her male coworkers she had tried to develop rapport with, but with whom she didn't have much in common. Thus, she began a period of intense character revision, during which she tried everything that they seemed to enjoy and talk about — fantasy football, religiously watching basketball games — in the hopes of forming interpersonal connections. When that didn't work, she turned to simply being herself. And it was this choice, she said, that helped her build relationships even though it was her last resort. 
Lee's story reminds me of this great moment in Brene Brown's podcast episode with Melinda Gates, where Gates speaks about working at the early Microsoft company, and strongly disliking the brashness and inconsideration of the "boy's culture." When Gates was thinking of quitting because of that culture, she decided to instead try being herself. Drawing from her experiences of empathetic leadership and compassion, she developed her own culture at Microsoft, revising the systems set in place. In this way, I think Lee and Gates are extraordinarily alike, as they both tell us that when we go out into the big world, the most important thing for us to remember is to not be afraid to be genuinely ourselves, and to find strength in that vulnerability. 
Adding to her list of impressive accomplishments, Lee co-founded and ran Ampere, an E-commerce lingerie company, from 2013 to 2015. According to Lee, E-commerce apparel was an industry that was ripe for disruption and ready for a better customer experience. 
"After working on that business for nearly two years, the business went nowhere," recalled Lee. "It did not scale, it did not grow. In fact, by almost every single measure, it was an overall failure." The silver lining, she said, was a newfound appreciation for what it means to start something from scratch and compassion for a customer base. From this experience, Lee said she learned a few tenets of entrepreneurship, such as being willing to take calculated risks and being thoughtful about initial spending. 
Increasing communication with customers is immensely beneficial, said Lee. For E-commerce and product endeavors, be sure to launch and make your products available to customers as soon as possible, as honest buyer feedback is incredibly important for business improvement. And in any endeavour, ensure that your decision-making process is rigorous and never done under duress.  
I felt so deeply enriched by Lee's sharing (All my thanks to her for her time and patience!). I hope you get that same feeling from this week's column. See you next time!
Financially yours, 
Karissa