Andy Jassy Taking on CEO Role of Trillion Dollar Company
Heidi Teng, News Co-Editor-In-Chief/Assignment Manager
February 28, 2021
Jeff Bezos announced in February his plan to step down from Amazon CEO to executive chairman. In his new role, Bezos will provide leadership and direction, facilitate operations, and take on strategic initiatives. 
The company cited this to be a good time for a company transition. Amazon is extremely popular because of its "1-Click, personalized recommendations, Prime's insanely-fast shipping, Just Walk Out shopping, the Climate Pledge, Kindle, Alexa, marketplace, infrastructure cloud computing, Career Choice, and much more" as stated by founder and CEO, Jeff Bezos in an Amazon press release. 
Andy Jassy, a former student of Jeff Bezos, is stepping in as CEO for one of the world's most valuable technology companies. Amazon has more employees than its competitors — Microsoft, Google, and Apple — and many of their employees are low-skilled manual laborers rather than software developers and engineers. Jassy has a powerful tool for managing a vast spectrum of workers and partners: a cloud-software infrastructure. 
According to Matt Mcllawn, a partner at Seattle's Madrona Venture Group, Jassy "invented the cloud-computing world as we know it."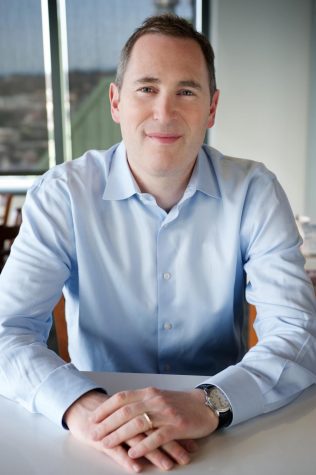 Jassy is often described by those who work for him as similar to Jeff Bezos, but he is considered "warmer and fuzzier." There is a sharp contrast between how he treats his immediate reports and how Amazon's algorithm and artificial intelligence treat millions of front line workers. If Jassy can use artificial intelligence to manage the company's workers and partners as humanely as he does himself, this accomplishment may be a legacy as CEO. 
Jassy's leadership will be tested when he takes on the new CEO role as he navigates a hardship-filled period in its history with Amazon employees working long shifts for minimum pay. In addition, the day Jeff Bezos announced he'd be stepping down, the U.S. Federal Trade Commission ordered Amazon to pay around $62 million for taking tips that were supposed to be given to its delivery drivers. The company is also facing problems from regulators worldwide about the allegations of price-fixing and other monopolistic practices. 
In an Amazon Press release, the company listed the many reasons that now is the optimum time for the leadership transition, citing the company's initiatives such as: investing in employee safety; supporting communities through their Housing Equity Fund; protecting the planet by aiming to become net-zero carbon by 2040, empowering small and medium-sized businesses and improving shopping and entertainment.