New Tech Alert! The AirPods Max
Heidi Teng, News Co-Editor-In-Chief/Assignment Manager
January 29, 2021
Are you looking for a new pair of headphones? After much speculation about this product in 2018, when an ex-Apple engineer released this design, the AirPods Max is finally released. It became available to buy mid-December with a starting price of $549, which is more expensive than any other headphones. David Cornoy, one of many who have bought this product, shares his opinion here. 
The AirPods Max has a minimalistic design, and comes in a range of colors: gray, silver, sky blue, green, and pink. According to Apple, the mesh headband is designed to "distribute weight and reduce head-on pressure." It is made of stainless steel, but it is not heavy enough to put immense pressure on the head. Each ear cup attached to the band contains a mechanism that balances the ear cup pressure, allowing it to pivot and fit the user's head. The digital crown, inspired by the Apple Watch, offers volume control and the ability to play or pause a video, skip music, answer or end a call, and activate Siri. 
AirPods Max's battery life lasts up to 20 hours of use. A slim smart case is also available to purchase, allowing the AirPods Max to preserve battery life when not in use.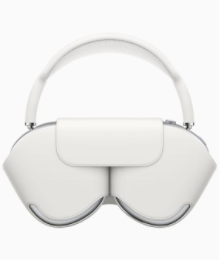 Greg Joswiak, Apple's senior vice president, stated that the AirPods Max is a "custom acoustic design, combined with powerful H1 chips, and advanced software enable AirPods Max to use computational audio to deliver the ultimate personal listening experience wirelessly." Each H1 chip contains ten audio cores (capable of 9 billion operations per second). The chip is found in both earpieces allowing for an experience that includes different features: Adaptive EQ, Active Noise Cancellation, Transparency Mode, and spatial audio. 
Adaptive EQ: Adjusts to the sound to fit the ear cushion by measuring the low-mid frequencies in real-time – ensures rich audio that captures every small sound.

Active Noise Cancellation: According to

Apple

, "Each ear cup features three outward-facing microphones to detect environmental noise, while one microphone inside the ear cup monitors the sound reaching the listener's ear."

Transparency Mode: Allows the user to listen to music while hearing the environment around them simultaneously

Spatial Audio: Using the

gyroscope

and

accelerometer

, spatial audio tracks the motion of the user's head and device, compares motion data, then remaps the sound field, so it stays anchored to the device despite the constant moving