Death to 2020 Review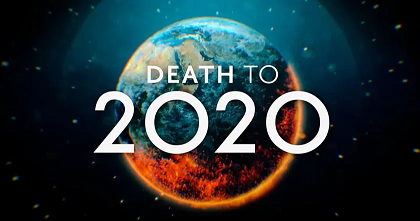 2020: a year that will live in infamy as quite possibly the worst year our world has ever faced since One Direction broke up (2015). A chain of one problem to the next, 2020 tested the patience of all. The horrors of the chaotic year will be told for generations to come. However, if you totally forgot about the chaos that took place last year, and did not tune in to a single Saturday Night Live, Netflix's original mockumentary, Death to 2020, reminds, and thus reflects, that this past year, and how do I put it nicely… s*cked. 
Produced by the same creators from the television show, Black Mirror, Charlie Brooker and Annabel Jones, Death to 2020 takes a sarcastic look at the significant events of the past year including the Oscars, the National lockdown and spread of a global pandemic, and the Presidential Election. By utilizing a documentary format, the Netflix original introduces characters as various interviewees from America and the United Kingdom; even the Queen of England, portrayed by Tracey Ullman, makes an appearance as she advertises her personal Youtube channel and merchandise. 
The special opens with Dash Bracket, a reporter with the New Yorkerly News, receiving information that the "documentary" will be focused on the events that took place during 2020. Bracket, played by Samuel L. Jackson, responds by exclaiming, "Why in the f**k would you want to do that?" which sets the stage for the dry, at times explicit, humor subsequently emerging throughout the special. Death to 2020 pokes fun at the absurdity of American politics and politicians when an interviewee from the UK, Gemma Nerrick–played by Diane Morgan– compares the 2020 presidential election to a game show, as well as the national news coverage to a reality TV series. Yet, Death to 2020 does not only mock American politics. Hugh Grant's character, Tennyson Foss– who is a slightly prejudiced British historian– judges and name calls Boris Johnson, "the prime minister and haystack."
Death to 2020 sheds light to the difficult and sometimes unbearable past year we have collectively, and globally, experienced. Although the special is hilarious, it recycles many of the jokes comedians, late night shows, and social media users have been making all year. From mocking "Karens" on the internet to making fun of performative Millennial activists, Death to 2020's main jokes have already been heard. But, do not let the comedic repetition stop you from watching. The Netflix special is still a great movie to watch and have a laugh. So let's look back at the burning pile of garbage that was last year, and celebrate the death of 2020.