10 Holiday Traditions Around the World
Holiday events across the world  all have something in common: each festivity brings forth glee and holiday cheer for families. traditions connect individuals and families. Here are  holidays celebrated around the world:
Christmas is celebrated annually on December 25th, commemorating the birth of Jesus Christ. The majority of the world marks Christmas- during the month of December- as a day of celebration and observance, to which approximately 160 countries celebrate it around the world.
The idea of Christmas commercially, and typically, revolves around the idea of decorations and presents, but it is much more than that. Christmas is a joyous celebration, in which families rejoice, as they acknowledge the birth of their Savior. 
Las Posadas ("the inns") is a religious festival, which acknowledges Joseph and Mary's journey from Nazareth to Bethlehem, as they search for a place to stay. Las Posadas is a well-known, Mexican Christmas tradition that lasts nine days, starting on December 16th and ending on December 24th.Nine days represents the nine months Jesus stayed in Mary's womb, up to the point when she arrived in Bethlehem for the birth of her son. Its rich cultural and religious tradition unifies both families and communities as a whole.
Three Kings' Day is celebrated annually on January 6- the day of the Epiphany. The Epiphany is the day in which the three wise men visited Bethlehem, and gifted baby Jesus with gold, frankincense, and myrrh. Three Kings' Day is also known as Dia de los Reyes in Mexico and Spain. It is very similar to Christmas, as both holidays consist of eating, gifting presents, and more!
Winter Solstice takes place days before Christmas. The word solstice also signifies "sun stands still." This holiday is celebrated because it is the shortest day and longest night of the year for the northern hemisphere, signaling when the sun will shine directly above the Tropic of Capricorn. This brief event occurs at a very particular time, which is why the moment is so valuable across the world. During the time near the winter solstice, there are feasts and festivals that take place in order to celebrate this special event. 
Yule Lads, an Icelandic holiday, commemorates when half-trolls emerge in December. The story has it that the trolls — for thirteen nights –sneak into young children's bedrooms every night, leading up to Christmas Eve. Each of the half-trolls' names correspond with their talents, appearance, or special appetite. They either leave presents or potatoes in their shoes, depending on their behavior during the year. The Yule Lads are somewhat similar to the tradition of Santa Claus, but there is obviously more than one person- there are instead 13 half-trolls. Just like the way they arrive, the Yule Lads also leave one at a time – starting on December 24th, and ending on January 6th.
St. Nicholas Day is usually commemorated on December 6th, but in the Netherlands, most of the celebrations held for him occur on December 5th. Annually on this day, St. Nicholas arrives in a different city or town in the Netherlands, where he has traveled in a steamboat since Spain. A fun fact is that the name "Santa Claus" actually comes from the name Sinterklaas, which translates to Saint Nicholas. Dutch children prepare for this event by leaving their shoes or clogs next to a fireplace or door. Then, they excitedly fill their shoes with either hay or carrots- in order to feed Sinterklaas' horse. Sometimes, in exchange for the carrots and hay, the children receive small gifts and presents in their shoes.
Christmas Boats in Greece
In Greece, instead of decorating and displaying a Christmas tree, individuals garnish their boats during December, or the holiday season. On December 6th, many Greeks decorate boats of all sizes with lights, and place them in main town squares, which continue to be displayed until January 6th- the Epiphany. Reflectively, boats attain a large role in the country's culture; they were even decorated before traditional Christmas trees! And yet another reason for this boat fun emerges in the fact that St. Nicholas is considered the patron saint of sailors, as he is celebrated on December 6th.
Hogmanay is an extravagant New Year's Eve celebration in Scotland, whose parties last until January 2nd. Hogmanay is all about welcoming friends, family, and even strangers with open arms. A Hogmanay tradition is the First Footing, where a dark-haired male should be the first to enter a family's house in order to certify good luck. Singing the Auld Lang Syne, a song reflecting on old friendships and uniting together, is a Scots tradition sung every year on New Year's. 
Junkanoo is a Bahamian national festival that bursts with incredible colors and sounds. Celebrated on December 26th and January 1st, this holiday involves a massive parade filled with drumming, cow belles, and whistles. The main parade begins at about 2 a.m., and it continues until around 10 a.m. the next day. There are many eye-catching costumes, which add a great touch to the parade and celebration!
Also known as Deepavali or Deepawali, the holiday celebration, Diwali, is the most important religious, Hindu festival. In order to celebrate the Hindu New Year, there is a Festival of Lights, where Hindus champion the victory of light over darkness, and the success of good over evil. This festival begins two days before the New Moon emerges, and can thus last for five days. It is also tradition to decorate homes and to visit local temples for prayers — leading to sharing meals with families and friends. Like most holidays, there are gifts and presents given mostly to children. Some customs present at this festival are lighting candles and oil lamps.
No matter which holiday you may be celebrating, find the joy and happiness that flourishes within it. Happy holidays and more importantly, stay safe!
Leave a Comment
About the Contributor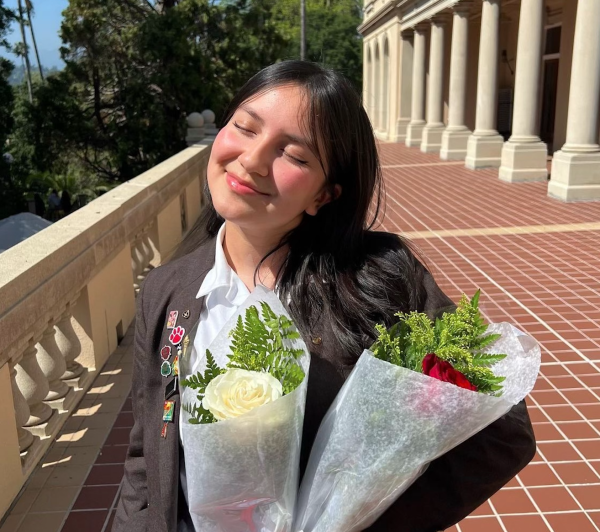 Monica Zepeda, Co-Editor-In-Chief
Monica Zepeda is a senior at Mayfield Senior School. She joined the Mayfield Crier as a freshman and as a senior, she will serve as Co-Editor-in-Chief...