The Show Must Go On: Theatre During a Global Pandemic
PASADENA, California — Under normal circumstances, on Thursday, November 19th, 2020, tech crew and cast members would be running around backstage preparing for the curtain to rise on opening night of Mayfield Senior's fall play, but this year, there wasn't a set that stood on the stage, or lighting in Pike Theatre. And each cast member performed from their respective homes instead of all together on campus. 
After three=plus months of preparations, the members of Mayfield's Theatre Conservatory, directed by Maryanne Householder, slipped into their costumes, adjusted their ring lights, and turned on their cameras to perform the fall production of the play, When Shakespeare's Ladies Meet, by Charles George. The play brings together six female characters from different Shakespeare productions, Romeo and Juliet, The Merchant of Venice, The Taming of the Shrew, Hamlet, Othello, and Antony and Cleopatra. The characters gather in Juliet's garden in Verona, Italy to offer Juliet advice about love and her relationship with Romeo. When Shakespeare's Ladies Meet offers a comedic and lighthearted twist on the classic Elizabethan plays. 
As a member of the Theatre Conservatory, it was heartbreaking and disappointing to learn that we would not be able to perform our play in person on campus, but from the experience, I found a sense of hope in realizing that theatre could still continue during the pandemic. Covid-19 has greatly impacted the theatre community from the shutdown of Broadway on March 12th to the rise of virtual theatre performances. 
Rehearsals were every Monday, Tuesday, and Thursday until tech week. Under normal circumstances, tech week would span over the two weeks leading up to opening night and rehearsals would take place everyday from 3:30 in the afternoon to 5:30 at night. This trimester, tech week still followed the two-week schedule, but was no longer two hours long as the extra time to block scenes was no longer necessary. 
It wasn't until Friday, November 6th, that we were able to visit the Mayfield campus to try on our costumes and take them home to wear as we recorded our production. Although we were not in person, recording the show on Zoom while wearing our costumes felt somewhat like  performing normally. It gave the familiar feeling of staged performances when cast members would hurry around backstage waiting for their cue. This new way may be unconventional, but it offers new possibilities for theatre during this challenging time. 
While remaining at home, theatre offered me a creative outlet to feel connected to my peers and express myself. As I stepped into the shoes of my character, Desdemona, I was able to escape from overwhelming aspects of my reality. We can often feel hopeless about returning back to our normal lifestyle but, if I learned anything from my experience putting on a virtual production, it's that we can do our best to adapt to the new normal. 
As we had our virtual curtain call, I realized how different this production truly was. There was no applauding audience, no bright lights shining down on us, no tech crew in the wings. One thing that our virtual production had in common with in-person productions was the bond and support shared between the crew members, cast, and our director, Ms. Householder. This unique theatre experience may have been unconventional but as the theatre community always says, the show must, and did, go on. 
FALL THEATRE PRODUCTION — "WHEN SHAKESPEARE'S LADIES MEET"
Register online for access to the limited streaming event, which will be available from Friday, Nov. 20 – Sunday, Nov. 22.
Leave a Comment
About the Contributor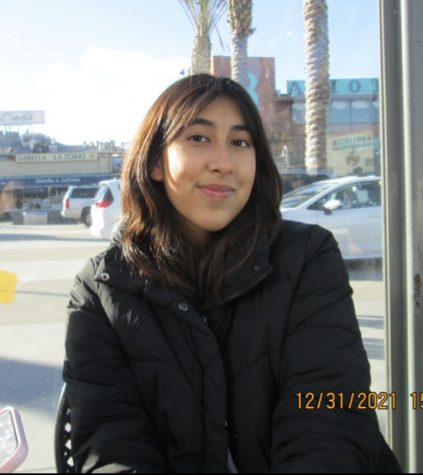 Madison Rojas, Editor-in-Chief
Madison Rojas is a senior at Mayfield Senior School and currently serves as the Editor-in-Chief of The Mayfield Crier. Madison has received multiple awards...