Two Roads Taken, Two Roads Converge
With the election of a new Presidential Administration, voters are awaiting a change of leadership as a breath of fresh air for some. Though the President-elect and Vice President-elect come from very different backgrounds, over the past four months Joseph R. Biden and Kamala Harris will come together as the next administration on January 20. 
Former Vice President Joseph Biden was born on November 12, 1942 to Catherine and Joseph Biden in Scranton, PA. Biden often credits his parents for instilling in him the values of hard work, responsibility, and staying tough in difficult situations. Though the former vice president was born in Pennsylvania, his family moved to Delaware when Biden was 10, a state which he would eventually serve as a United States Senator. 
"During my adolescent and college years, men and women were changing the country-Martin Luther King Jr., John F. Kennedy, and Robert Kennedy–and I was swept up in their eloquence, their conviction, the sheer size of their improbable dreams," 
Joe Biden attended the University of Delaware in 1961 where he enrolled as a double major of political science and history. Biden went on to earn his law degree at Syracuse University.
In 1966, Joe Biden married Neilia Hunter and together they had three children: Joseph 'Beau' Biden III, Robert Hunter Biden and Naomi Christina Biden. After practicing law at a firm and as a part-time public defender in Delaware, Biden was elected in 1970 to the New Castle County Council. As a member of the county council, he fought against oil companies and the building of a 10 lane highway project while managing his own law firm. 
"We have too often allowed our differences to prevail among us. We have too often allowed ambitious men to play off those differences for political gain. We have too often retreated behind our differences when no one really tried to lead us beyond them," Biden said in his announcement for Senate candidacy. 
By 1972, Biden announced his campaign for US Senate. During his campaign, he was surrounded by family, with his sister Valerie as his campaign manager. Though it was a tight race up to Election Day,  Biden won in an upset victory and became the 5th youngest U.S. senator at age 29. 

"I felt God played a horrible trick on me, and I was angry,"Joe Biden after his family tragedy.
Unfortunately, that joy ended quickly for the Bidens. One week before Christmas, tragedy struck when Biden's wife and daughter were killed in a car accident that left their sons, Hunter and Beau critically injured.  Biden was sworn into the Senate at his sons' hospital bedside and commuted from Delaware to D.C. daily so that he could spend time with his two sons. 
Five years later, Joe Biden married Jill Jacobs in New York. When the two welcomed their daughter, Ashley, in 1980, Mrs. Biden left teaching to become a full-time mom but later earned her doctorate in education and returned to teaching. Dr. Biden taught at North Virginia Community College while her husband served as Vice President and hopes to continue teaching as first lady, saying, "I would love to. If we get to the White House, I'm going to continue to teach." 
As the leader of the Senate Judiciary Committee for 16 years, Joe Biden had many achievements. In the 70's, he opposed court-ordered school busing to continue his goal of desegregation in schools. Biden twice opposed the National Rifle Association, (NRA) during his time in the Senate. He first passed the Brady Background Check Bill–a bill written after the attempted assassination of President Ronald Reagan that left his Press Secretary, James S. Brady, partially paralized. The bill established the National Instant Criminal Background Check System which gave any licensed firearms dealer access to any potential criminal information. The second interaction with the NRA was the ban on assault weapons. 
Joe Biden was also at the head of the Violence Against Women Act introduced in 1990. The bill established the National Domestic Violence Hotline and created training to teach members of law enforcement about gender-based violence.
In 2008, Biden became Barack Obama's running mate and the two went on to win the Presidential election. As the 47th Vice President of the United StatesBiden overssaw the implementation  of the Recovery Act in response to the country's economic crash. In 2012, Obama and Biden ran for re-election and were victorious once again. 
In 2015, the Biden family suffered a loss of Joe Biden's son, Joseph Robinette "Beau" Biden III, due to brain cancer. A father and husband, Beau Biden was an Army National Guard veteran having received a Bronze star for active duty in Iraq. The younger Biden was twice elected as attorney general of Delaware and had planned to run for governor in 2016 before his cancer diagnosis. The elder Biden often speaks of Beau as his motivation.
"While he's no longer with us, Beau inspires me everyday," said Biden after clinching the Democratic party's presidential nomination
"The core values of this nation… our standing in the world…our very democracy…everything that has made America–America–is at stake. That's why today I'm announcing my candidacy for President," former Vice President Joe Biden announcing his campaign for President on April 25, 2019.  
Early in the race, Biden looked far from the Presidency with a fourth place finish in the Iowa Caucus and fifth place in New Hampshire. However, in the first Democratic Primary Debate, the former Vice President gave a strong performance, one that would earn him the support of the highest ranking African-American Congressman James Clyburn. He subsequently earned endorsements from a number of former presidential candidates including Beto O'Rourke, Pete Buttigieg, and Amy Klobuchar. 
The Covid-19 pandemic forced Biden campaigned unconventionally since March, doing virtual events and drive-in rallies in swing states to reach out to his constituents. His final Democratic opponent Senator Bernie Sanders dropped out and endorsed Biden in April, leaving Biden's final challenge to defeat President Trump. 
Senator Kamala Harris was born in Oakland, California on October 20, 1964 to Shyamala Goplan who immigrated from India and Donald Harris who came from Jamaica. The two met at UC Berkeley and shared a passion for the civil rights movement, taking young Kamala and her sister Maya to protests. After her parents divorced when she was seven years old, Harris grew up with her mother in an apartment in Berkeley.
As a child, Harris visited her mother's family in India where her grandfather was a high-ranking government official who fought for India's freedom and her grandmother traveled teaching women about birth control. Harris, her mother and sister moved to Montreal for her mother's job researching cancer. 
Harris attended  Howard University, an HBCU in Washington D.C where she majored in political science and economics. She attended law school at the UC Hastings College of Law in San Francisco. In 1990, Harris became the assistant district attorney of Alameda County with a focus on sex crimes. 
In 2003, the Senator ran for district attorney in San Francisco and was elected in a runoff  with 56% of the vote becoming the first black district attorney of San Francisco. In her first three years, the conviction rate reached 67%. During her second term, Harris made the decision to run for California Attorney general though many thought it was unlikely for her to win because she was a liberal women of color running against a Republican white man. 
The race was so incredibly close that her opponent was declared the winner by the San Francisco Chronicle and gave a victory speech. However three weeks later, after all votes were counted, it was discovered that Harris was instead the state Attorney General by .8 percent. As Attorney General, she secured $20 billion in a mortgage settlement for California homeowners and created an online platform called Open Justice for public access to criminal justice records. 
In 2014, she married Doug Emhoff, an attorney who had two children Ella, 21 and Cole, 25,  from his previous marriage. 
Harris ran for Senate in 2016 and won entering as a Democrat in the Trump Administration. She is known for her sharp question of President Trump's former attorney general Jeff Sessions and the Supreme Court Justice Brett Kavanuagh. She ran for President in January of 2019 but ended it in December of the same year after missing the mark in the Iowa Caucus. She endorsed Joe Biden on March 8 of 2020 and was announced as his Vice President on March 17. She is the first female, African-American, and South-Asian Vice President.
Leave a Comment
About the Contributor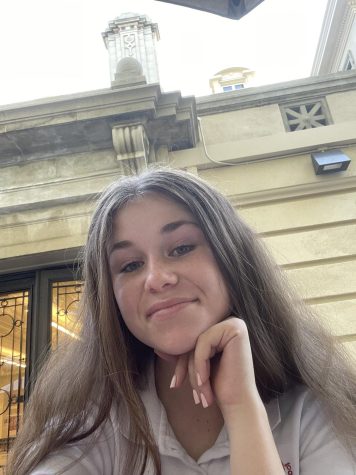 Afton Copeland Spiegel, News Co-Editor-In-Chief
Afton Copeland Spiegel is a senior and is the News Co Editor-In-Chief. Besides being a member of the Crier, she is also the co-head of the Body Positivity...