First-Person: I'm 16, I didn't go trick or treating this year. I worked the 2020 Presidential Election Polls
LOS ANGELES, CA–2020, the start of a new decade and a year that will go down in history has just seen one of the most contentious US presidential elections in recent decades. From both sides of the political aisle, there is heated debate about the integrity of ballot counting as the country saw nationwide mail-in voting in response to the COVID-19 pandemic. However, Americans across all 50 states showed up for in-person voting in and on the days leading up to November third. 
What did in-person voting look like in Los Angeles County? What does the voting process look like behind the scenes, especially this year? If you've asked yourself these questions over the past few days, you are in luck. I worked the 2020 presidential election over Halloween weekend and on November third to participate in the democratic process. 
Two years away from being able to vote in the US, working at the election polls was an eye-opener for me into the democratic process. I experienced, first-hand, the hard work that is put in behind the scenes to ensure a positive voting experience and fair election.
Early voting began at certain voting centers in LA county on October 24, ten days before November third, and all voting locations were opened on October 30. Halloween, October 31, marked the first day I was assigned to work at the Santa Anita Church vote center location as a student election worker.  
Before arriving at the vote center, all election workers were required to self-check for symptoms of COVID-19 and had their temperatures checked upon arrival. 
Each morning, in the hour before the polls opened, we set up a COVID-19 stop station with hand sanitizer, gloves, and masks for voters in addition to putting up voting information posters and signs. Election workers prepped the Ballot Marking Devices (BMDs), E-poll books, ballot printers, and ballet boxes for the start of the day. 
Throughout the weekend, I worked as a line monitor and check-in clerk at the COVID-19 stop station. I informed voters of where to go to vote in-person and directed voters who were dropping off mail-in-ballots to the ballot box if they wished to cast the envelopes themselves. Stop station clerks wore face shields as an extra precaution against coronavirus as we came into close contact with arriving voters. 
Beginning Election Day, I worked as a BMD monitor, helping voters navigate the new BMDs and sanitizing each device after each voter cast their ballot.  
At the end of each day, the vote center leaders went through the chain of custody for all BMDs and E-poll books to ensure that no ballot tampering took place. Every night the number of ballots counted for the day were matched with the number of check-ins at the E-poll books to account for all voters that cast their ballots in-person. 
Taking into consideration COVID-19 safety guidelines and regulations, all voters who wished to enter the vote center were required to wear masks and use either hand sanitizer or gloves before entering. All E-poll books, styluses, and BMD monitors were sanitized after each use to help reduce the spread of the virus and social distancing was required by voters and election workers alike. 
In my short but educational time at the vote center, I observed how dedicated all the election workers were to making sure that every voter was able to cast their ballot and felt secure that their ballot would be counted. 
Our country is only celebrating its 59th presidential election, considering they only come around every four years. It was extraordinary to be a part of something so vital to our American values of representation and power derived from the people. Voting is a sacred right, fought for by many in the United States over the last 200 years. It is something to cherish, something meant to empower, and something to never take for granted. I look forward to seeing you at the polls in 2024!  
View Comments(1)
About the Contributor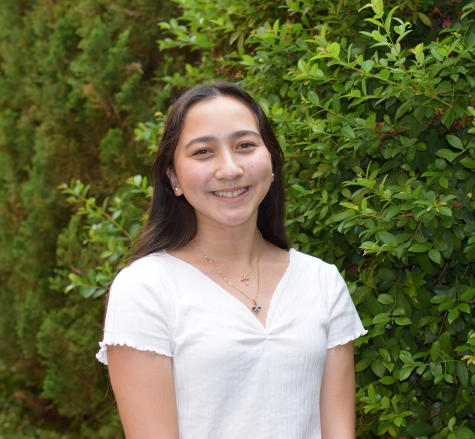 Hannah Sherman, Online Editor-In-Chief
Hannah is a senior at Mayfield Senior School and is thrilled to be a part of The Mayfield Crier staff for her fourth year as Online Editor in Chief. Hannah...