THE NEXT STEPS AHEAD OF THE ELECTION
After two heated presidential debates, many are wondering what's next for the two presidential candidates. The Democrats and Republicans are looking to pull swing states such as Ohio, Florida, North Carolina, and Pennsylvania. A forecast model from FiveThirtyEight shows that Former Vice President Joseph R. Biden is favored to win the election though there is still time for these polls to change. 
Due to the pandemic, Biden had limited the traditional idea of in-person campaigning instead opting for virtual meet and greets but as election day comes closer, Biden has opted for in-person campaigning. Known for his love of Amtrak trains, Biden used his hobby to meet constituents. As he was sent off to Pennsylvania, Biden told journalists, "I love being on the train." 
However, for President Trump, things have come to a grinding halt as he and the First Lady tested positive for COVID-19 on October 1. The news came after his staffer Hope Hicks tested positive that morning. Those who have been around him have been tested, though none of his children have tested positive. Chris Christie, the former governor of New Jersey, and Kellyanne Conway, former counselor to the President both tested positive the following Friday after the President was tested. 
The President was transferred to Walter Reed Hospital after suffering from COVID-19 symptoms 24 hours after revealing his positive test. The President posted a video on his social media after arriving at the hospital saying, "I think I'm doing very well but we're going to make sure that things work out." 
— Donald J. Trump (@realDonaldTrump) October 2, 2020
He has continued to tweet updates since posting the video on Thursday.
"We will continue to pray for the health and safety of the president and his family," said Former Vice President Joe Biden in a statement on behalf of him and Dr. Jill Biden. The Biden/Harris Campaign also made the decision to pull all of their negative ads against President Trump during his time of recovery.
Jill and I send our thoughts to President Trump and First Lady Melania Trump for a swift recovery. We will continue to pray for the health and safety of the president and his family.

— Joe Biden (@JoeBiden) October 2, 2020
The diagnosis of the President could affect his campaign as he was looking to sway more swing states like Florida and Arizona in the upcoming weeks before the election, though those campaign events now seem to be virtual. In a poll taken by CNN, 69% of Americans agree that they do not trust the information that is released from the White House on President Trump's health, and in a separate poll, 60% percent of Americans disagree with the President's handling of the COVID-19 pandemic. 
The President returned home to the White House on Monday, October 5 after four days in the Walter Reed Medical Center. The President announced his discharge in a tweet.
I will be leaving the great Walter Reed Medical Center today at 6:30 P.M. Feeling really good! Don't be afraid of Covid. Don't let it dominate your life. We have developed, under the Trump Administration, some really great drugs & knowledge. I feel better than I did 20 years ago!

— Donald J. Trump (@realDonaldTrump) October 5, 2020
When President Trump arrived at the White House, he almost immediately removed his mask despite requests by medical and presidential administration officials. Robert Garcia, the mayor of Long Beach, California who lost both of his parents to the coronavirus, tweeted:
What we are watching on television right now is a national disgrace. It's one of most dangerous and selfish acts ever by an American President. He's dangerous, doesn't care about us, and must be defeated.

— Robert Garcia (@RobertGarcia) October 5, 2020
President Trump stalled a Coronavirus stimulus bill on Tuesday, which would have supported those who have been laid off due to the pandemic. This could affect Trump's support as millions of Americans needed the unemployment check to support themselves. The President voted in Florida on Saturday, saying that he "voted for a guy named Trump."
The next two weeks will be filled with rallies and appearances in swing states like North Carolina, Ohio, and Pennsylvania. With the completion of the presidential debates, the next two weeks will be filled with early voting as one last opportunity to sway the undecided. 
Leave a Comment
About the Contributor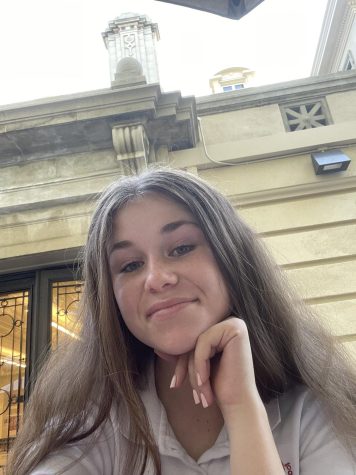 Afton Copeland Spiegel, News Co-Editor-In-Chief
Afton Copeland Spiegel is a senior and is the News Co Editor-In-Chief. Besides being a member of the Crier, she is also the co-head of the Body Positivity...