The Student Diversity Council Column
PASADENA, California– Justice, equity, diversity, and inclusion. These four values are the guiding principles for the Student Diversity Council. Made up of 36 BIPOC and non-BIPOC students from all grades at Mayfield, the Diversity Council strives to create an accepting community and educate Mayfield about different justice and equity issues.
Every month, the council will publish a column covering the topics discussed during the Diversity Council weekly meetings. The goal of the column is to encourage students and faculty to learn more about diversity, equity, and inclusion as well as sparking conversations about important issues such as microaggressions, social justice issues, and diversity within our community. 
Throughout the school year, Diversity Council establishes conversations about equality and justice while fostering a community of inclusion at Mayfield Senior. As in year's past, the Diversity Council intends to educate about different cultural awareness months such as Black History month in February. From September 15 to October 15, the Mayfield Diversity Council celebrated Latinx Heritage month.  Every Monday throughout mid-September and early October, Diversity Council published a new video that highlighted important Latinx historical figures and Latinx history in the community FlipGrid. 
In addition to the weekly Flipgrid videos, the Student Diversity Council presented its first assembly of the school year for Latinx Heritage month on Wednesday, October 7th. 
Although it couldn't be held in person, the assembly was composed of a compilation of videos providing information about different aspects of Latinx culture. The videos discussed Latinx artists, holidays, and the experiences of Afro-Latinx people. Following each video were discussion questions posed by the Diversity council to spark discussion amongst students. Sofi Olona '23 thought the assembly helped educate herself about other Latinx cultures. Olona said, "The diversity assembly was both informative and fun. I enjoyed learning about other Latinx cultures beside my own."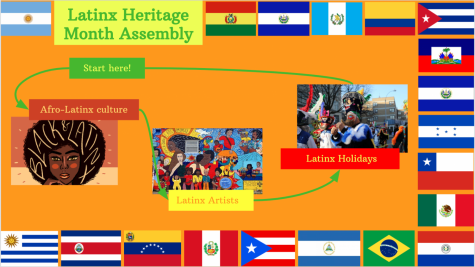 Diversity Council
Be sure to check out the Student Diversity Council's page in the Weekly Bulletin to learn more about what we are discussing each week.