What does Apple and Tesla's Stock Split Mean for You?
Heidi Teng, News Co-Editor-In-Chief/Assignment Manager
September 21, 2020
You may have heard that popular public companies, Apple and Tesla, recently completed stock splits. If you're wondering what that means for investors, here's a look at how stock splits work: 
What is a stock split?
Stock splits occur when a company's board of directors decides to divide the company's shares. It does not add value to the stock, but instead increases shares' availability through lowering the price. When a specific stock splits, the owner will suddenly own twice the amount of shares (a 2 -for-1 split), or four times as many (a 4-for-1 split). Stock splits do not post significant advantages to their investors. Their primary purpose is to make it more affordable for those who would like to invest in the company.  
Tesla's Stock Split:
Recently, Tesla (TSLA) had a 5-1 split. When the company announced that they were planning to have a stock split, the price of their shares surged over 70%. The closing price before their split lay at $2,238.75. Tesla's shares have increased by more than 400% this year. Since the stock split, its market value has boosted, making its company worth more than $430 billion. Tesla's revenue graph has stayed mostly flat due to the pandemic; however, it has made better progress than other automotive companies.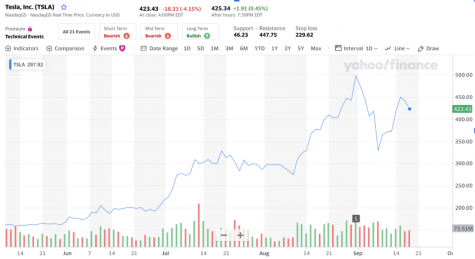 Apple's Stock Split: 
A year after the 7-1 split in 2014, share prices had grown nearly 37% to $129. Apple (APPL) had a 4-1 split in late July, which marks its fifth-time splitting. Apple is the first and only publicly-traded company that has a market capitalization of over $2 trillion. According to several Wall Street journalists, Apple will continue its growth after its stock split.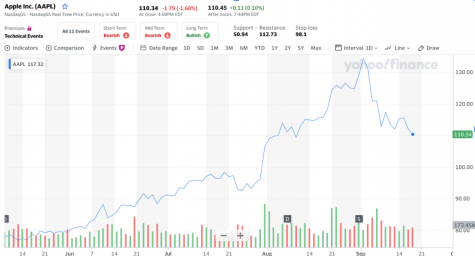 With Apple and Tesla's stock splits, both companies aim to make their shares more affordable to individual customers. In theory, stock splits, like Apple and Tesla, do not mean much. The bottom line is when a company splits its stock, its total value doesn't change. The company would end up with more stocks, each at a cheaper cost. For example, if you own 100 shares worth $500 each, you own 400 shares worth $125 each after the stock split. However, it turns out that splits matter more than you'd logically think. Stock splits attract more investors making it possible for companies to grow and increase in value. As shown in both graphs from Tesla and Apple, their stock values have increased significantly since their split. The success of the stock splits from both companies may encourage other companies to do as well.