The Experience of Online Summer School During A Pandemic
Summer School at Mayfield itself is a challenge but online provided a different set of obstacles to overcome. Taking summer geometry began as something I could manage well with organization, but later proved to require other necessary steps to keep up with the class. Turning in assignments became a war consisting of me vs. my internet and the competition was fierce. However, the question remains—did it better prepare me for this upcoming online school year?
In the first two days of the six rigorous weeks of geometry, the equivalent of a full two semesters worth of study, assignments were small and I did not feel the urgent need to ask for help or pose questions. Stress was not in my vocabulary. Asking for extra review quickly became necessary as the concepts became more complicated.
In the mornings before class there was only a slim window of 30 minutes of time to ask for help. Additionally, some questions were very difficult to explain without being in person. Not being able to fit in all the questions I had due to how swift we were moving in our notes–each day's worth of learning matched half a week in a regular course–and concepts were a constant weight on my shoulders. If I was the only one looking confused, my mind scolded to just hold the question in. I wondered if the question I had was worth stopping the rhythm of the class, as my eyes drifted to the mute button on the Zoom platform, a silent barrier. These restraints led me to have to tell myself that these questions I had were beneficial for everyone and even helped to improve my public speaking skills.
Homework was difficult as I  learned multiple lessons each day, but with motivation I was able to push through. It was my wifi that remained a constant test of my patience. After spending time to complete assignments and take pictures to turn in on my computer, my internet always crashed my flow. Taking pictures to submit on the submission platform of Google Classroom left me with frustration and exhaustion. Wifi issues were not a usual dilemma I had to face, but the frequency of online school made trying to cooperate with my Wifi an assignment in itself. This reoccurring issue led me to take action to become more technologically-oriented and practice the features of my computer that I once overlooked.
I never truly knew the power that organization had until Summer Geometry. Only using my desk, I arranged papers on top of it and secured them into an assortment of neat stacks. It was during open-note tests, that I found myself searching for papers causing me to waste time in the forty-five minute time limit. Also, while I was completing homework assignments I would scramble for my notes and other sources leaving me to fall to distraction, any student's worst fear. These struggles encouraged me to find new techniques of organization and ensure my area was always clean making me feel more hopeful in my ability to stay organized when at home.
Summer Geometry pushed me to keep trying in ways I had not experienced when physically on the Mayfield campus. It was difficult but also made me persist and adjust to the new environmental obstacles. Though overwhelming and disheartening at times, students can use the online environment to better their academic skills and mindset.
Leave a Comment
About the Contributor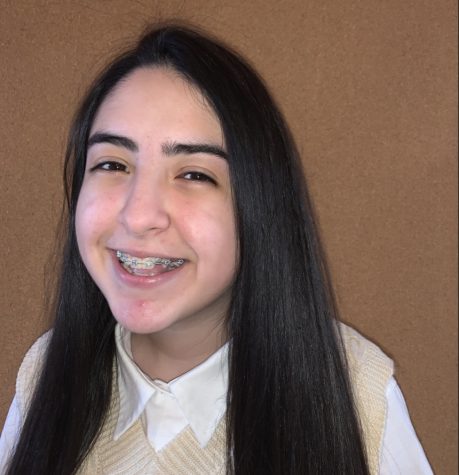 Miranda Gallegos, Reviews Co Editor-in-Chief
Miranda Gallegos is a junior at Mayfield Senior School. She is a beat reporter focusing on mental health among other topics for the Mayfield Crier and...