A Look at the Reasons Behind Banning TikTok
15 second videos: seemingly scrolling endlessly. Teens, especially during the pandemic, have spent hours on video app, TikTok. A source of immense entertainment, the app includes dances, comedy, and more. You'd think TikTok is simply a harmless deterrent to the boredom of being shut in by a pandemic, but not according to the White House.
Trump's Administration has deemed the app a "national security risk," as the app is owned by a Chinese company called ByteDance. Simply, any Chinese company, as a result of the governmental structure, is under the authority of the Chinese government. Therefore ByteDance's data and other private information is accessible to the Chinese government. The speculation surrounding how much access China has to American Tik Tok users was called into question when President Trump expressed his concerns regarding the non-American app.  
On August 6, Trump signed an executive order, stating that Bytedance has to sell TikTok to an American company. If the app has not been sold by September 20, Trump's Administration will then release information to the public on how the ban will work.  
The company Microsoft had come forward saying they were willing to buy the app. If the purchase were to happen, Bytedance would remain owners of the app in most of the world. However, Microsoft would have jurisdiction over the app in the US, Canada, Australia, and New Zealand. News of this ban has TikTokers in a panic, as the app has already been banned in India due to similar concerns. TikTok officials responded to the executive order by issuing a lawsuit against the US government. The company stated that they felt the need to sue against their rights being taken away. They also mentioned the tons of employees and TikTok creators that the app benefits.  
In the past, national security concerns usually consisted of the selling of state secrets, technologies or weapons. Now, it is personal data that is becoming a commodity, especially since the app has over 80 million followers in the U.S. and is still growing in size. However, what about this information makes it a threat to national security?  Although this information is being collected, what makes it special? 
All that is stored on our phones is data about ourselves. No traditional national security information could be accessed through our phones. So, unless you have a government-issued phone or a job working under the government, nothing other than your personal information is at risk. It was thought that this was not dangerous or threatening to our national interests, but considering how much data our phones store, it has become questionable.
"With the widespread adoption of smartphones across the globe, personal data has become more and more of a commodity," said Computer Science teacher Michael Dimen. "There's an expectation that services like Instagram and TikTok are free, but very often we forget that really, we are the product and the customers are companies trying to advertise to us or profit from our personal information," Dimen said.
For example, your internet search preferences are tracked. Anyplace you have ever gone with your phone is also tracked, as your data is collected and stored by companies, such as Google, to know your likes and dislikes.
"It's not always sinister—the reason that apps like Google Maps are so accurate is because they use our personal information without us having to actively broadcast it, and there are legitimate, life changing or even life saving benefits to the use of everyone's personal information," said Dimen. 
Even though there is much controversy over the ban of this video app, the information is still being gathered. Potentially, it could be used in a harmful way but is the threat is not great.  However, there is still reason for the ban and the issue of selling the app. 
To know more about what is stored on our phones click here
Leave a Comment
About the Contributor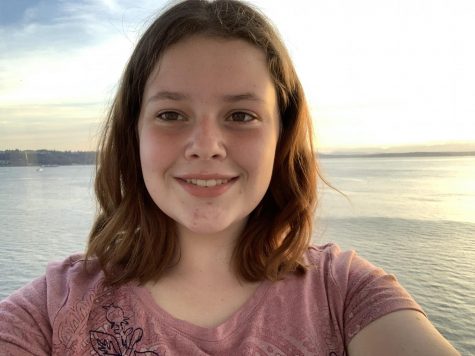 Abby Beegle, Columns Co Editor-in-Chief
Abigail Beegle is currently a sophomore at Mayfield senior school. She has been on the newspaper staff in 2019-2020 and 2020-2021 school years. Abby is...