Getting to Know Our New Science and Math Teachers
Pasadena, CA — Since school is starting remotely and cannot all assemble in person, this is an excellent opportunity for the Mayfield community to introduce the new science and math teachers who are joining us this school year. 
Lena Agulian is one of the new science teachers at Mayfield, teaching Biology and Honors Chemistry. The brain's mysterious workings sparked her interest in science during her third year at Cal Poly Pomona. She is excited to meet her students remotely and hopefully upon return to campus to fully experience Mayfield traditions and possibilities. Agulian is a self-described "foodie, lifelong learner and someone who feels laughter is the best medicine."
Did you know that Mrs. Agulian was on the Homecoming court in high school? If you ever catch her on campus and have some spare time, ask her to share some more information about this!
Billy Abdallah will be teaching conceptual physics to the freshmen. He found his attraction to science during his time at St. Francis High School, which started with "seeing color changes in [his] chemistry laboratory." Abdallah's ability to connect scientific concepts to everyday activities– from cooking to chemistry, driving to physics, and from gardening to biology–strengthened his fondness for science. As school starts, he is eager to share his optimism and passion for science by incorporating outdoor activities in Conceptual Physics to demonstrate that learning is not only isolated to the classroom. Like all of us, he is also excited to return to the Mayfield community to meet everyone. 
One fun fact about Mr. Abdallah is that he has an obsession with giraffes. He adopted a baby giraffe, Asali, which means "honey" in Swahili, who lives in Tanzania. 
Christina Lara '14 is a Mayfield alumni who will be teaching full time this year at Mayfield and we are so excited! She will be working with some of the freshmen teaching Algebra I. Lara is also bringing the first engineering curriculum to the school. She studied Biomedical Engineering at Purdue University and wanted to transition into teaching STEM at Mayfield, "giving back to the community that helped mold [her] into the woman [she] is today." Math has always been her favorite subject, "not just to learn about but to talk about since its applications are endless, especially in the engineering field." 
When she was a high school student at Mayfield, Dr. Blumenthal, Mrs. Melby, Ms. Peters, Mr. Greenleaf, and Mrs. Tighe all taught her to appreciate the finer aspects of each of the courses, augmenting her love for STEM. 
Lara's long term goal at Mayfield is to "hopefully inspire more women who are vastly underrepresented in STEM to be able to pursue it." 
"If I could do it and if Mayfield was able to prepare me for it, then so can others," said Lara "I want to be a part of that mission and goal!"
Lara was the fifth person in her family to attend Mayfield, and her sister, Rebecca Lara '21 will be the sixth person to graduate from Mayfield. Lara is a diehard basketball fan and loves watching NCAA basketball, rooting for her Purdue Boilermakers!
Both Abdallah and Lara both share a common viewpoint about STEM: it always will be beneficial in life, and with the understanding of science, one can make a positive influence on society. As  Lara said, "the beauty of STEM is that it will always apply to life even when you least expect it." 
All three teachers, Agulian, Abdallah, and Lara, learned the same thing during quarantine: they should not take little things for granted and that we get along with much less than we previously thought. 
Leave a Comment
About the Contributor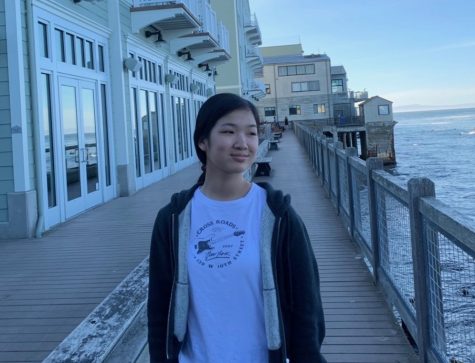 Heidi Teng, News Co-Editor-In-Chief/Assignment Manager
Heidi is a senior at Mayfield Senior School and is thrilled to be a part of Mayfield's Crier, serving as the News Co-Editor in Chief and Assignment Manager....