First Person: Rose Parade Tradition Even Sweeter When You're In it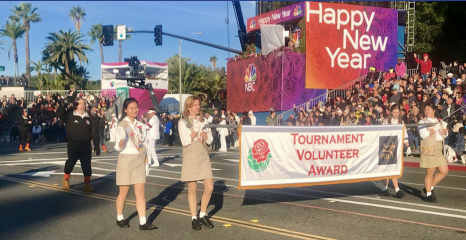 January 1st is not just a special day in Pasadena with floats driving down the street. Going to the Rose Parade has always been a family tradition. But this year was even more. 
Every year, Girl and Boy Scouts of Los Angeles participate in the Rose Parade by carrying the award-winning banners of the floats. 60 Gold Award Girl Scouts along with 60 Eagle Scouts were selected to carry the banners for 6 miles along Colorado Boulevard from the Tournament of Roses House on Orange Grove to Pasadena High School.
This year I was honored to live my family tradition once again while also being in the parade. Grace Fontes '21, Lily Fontes '22, Natalie Hanna '22, Catherine Mansour '20 and I proudly represented the Girl Scouts of Los Angeles, our families, and our community in a place that celebrates unity.
Other troop members joined in hours of practice to prepare for the parade, including walking and perfecting the formal troop-carrying position and procedure. We also learned the Rose Parade Color Guard and Flag Ceremony protocol at the Tournament House. 
The next step was going to bed early on New Year's Eve to ready ourselves for the big day that started bright and early at the Girl Scout office in Arcadia. Our call time was 3:00 AM! We enjoyed an early breakfast as a group and were quickly off to the Flag Ceremony at 6:45 AM.  From there, we took our positions in the middle of Orange Grove Boulevard, banners in hand, badges on vest, and smiles on our faces. 
The smiles stayed the whole way through despite our tired feet and hands. As Girl Scouts, we believe that the journey and willingness to face challenges and overcome them with confidence is the key to success. Scouting is not about perfection, rather, about empowering young women and men to accomplish their goals. On top of this, I now have wonderful memories and the honor of walking as a Girl Scout in the famous Rose Parade—what a great start to 2020!