Leftover Hacks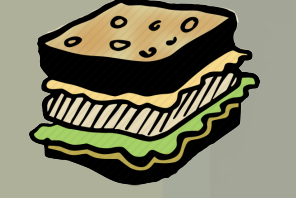 Bella Tiner, Art Editor, News and Features Co-Editor-In-Chief
November 25, 2019
hanksgiving— a celebration of family, union, and peace. Most people enjoy gathering with loved ones and bonding over a table of delicious turkey, cranberries, mashed potatoes, and pie. However, once Thanksgiving is over, many Americans find themselves frantically eating turkey and potatoes every day so they don't waste food. But eating leftovers doesn't have to be tedious or tiring. With these simple yet scrumptious recipes, you can keep the leftover season fun and flavorsome. 
The Thanksgiving Plus Sandwich:
 For the ultimate leftover combination, spread dijon mustard on two pieces of bread. Place about 2 to 3 slices of turkey inside, ¼ cup stuffing and ¼ cup mashed potatoes. If you desire, add some lettuce. Before closing the sandwich, put a few spoonfuls of gravy for flavor. If you want your sandwich a little sweet, you can add cranberries as well.
Turkey Slices+
¼ Cup Mashed Potato
¼ Cup Stuffing
Gravy or Mustard and Mayo+
Bread Slices
Then graphic of the sandwich
The Thanksgiving Wrap: This would be interesting as a lettuce wrap
For something lighter, separate whole lettuce leaves and add cut-up turkey. Then add stuffing and cranberries to taste. Add ground pepper and mix. For the dressing, drizzle on some gravy. When you're ready to eat it, toss your salad and dig in.
The Thanksgiving Empanada: 
Take 1 tablespoon of each item: turkey, mashed potatoes, cranberry sauce, roasted veggies, and gravy. Then mix these ingredients together to create the filling. On a floured board, roll out pie dough thinly. Cut dough into circles with the other side of your empanada cutter. Fill the empanadas but be careful not to overfill. . Place them on parchment paper, brush with melted butter, and bake at 375º for 20-25 minutes. 
Let's make this visual and more steps – I still like the flow chart
If you want to challenge your cooking skills, we happily present the Thanksgiving empanada. Turkey+
mashed potato+
Gravy+
Cranberry+
Pastry dough
Close the empanada's edges by pressing the dough with a fork
Then a graphic of filling into pastry circle
Then photo of finished empanada
Thanks for Turkey Lettuce Wraps
Chopped Turkey+
Stuffing+
Cranberry Sauce+
Lettuce leaves
Then Picture of Filling going into Lettuce leaf