Fatigues for Financial Aid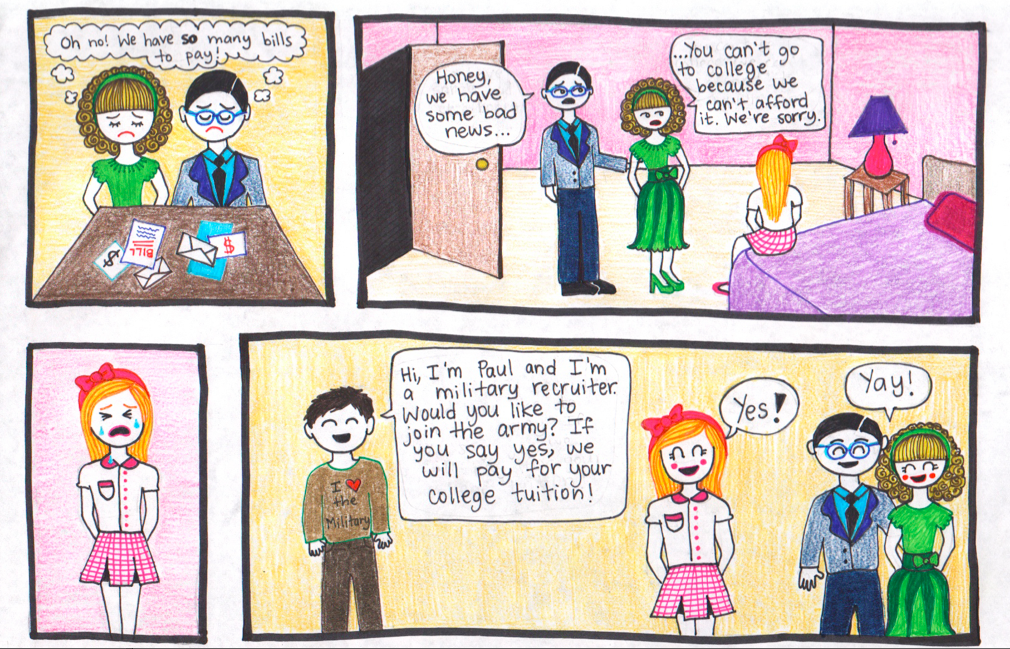 Cartoon by Laura Schmaeler
BY VICTORIA ANORVE
With college tuition skyrocketing in the past decade, millions of students are now forced to look for alternative ways to pay for their $160,000 college degrees.  They look to relatives, government loans, and private lending groups, and some are even turning to the military to help finance their education.
When Elliott Garber was a first-year student at Tufts University in Medford, Massachusetts, he knew he needed the Health Professions Scholarship to help pay for veterinary school. This scholarship, though, required prior military service.
After meeting with a recruiting officer, filling out forms and application for months at a time, and taking nerve-wracking medical screening exams, Garber finally received the scholarship that guaranteed to cover his entire tuition, as long as he was on active duty service for the U.S. Army for three years.
"I needed to convince them all that I was not only serious about being a good veterinarian, but that I was also motivated to use this education in the selfless service of my country," Garber added.
Garber's alternative option was to apply to The United States Military Academy at West Point, which is located on the Hudson River in Upstate New York. However, its acceptance rate of a mere 9 percent proved to be a hindrance.  West Point applicants are required to have not only a strong transcript and high standardized test scores, but a nomination from a member of Congress as well.
According to the Military Academy, "a cadet is a member of the U.S. Army, receiving a full scholarship and an annual salary. There is no tuition charge, but in turn, the cadet is obligated to serve five years on active duty in the U.S. Army, and three years in an inactive reserve status."
Academies such as West Point may be prestigious and challenging to gain admission into, but its free tuition make it a desirable university to study at without the burden of paying student loans or being in debt.
The United States Army offers a wide range of scholarships in order to help soldiers obtain a college degree. For instance, the Health Professions Scholarship Program offers full tuition to individuals who pursue health-care degrees in medicine, dentistry, psychology, veterinary, and optometry.  The Montogomery G.I. Bill, managed by veterans, provides soldiers with over $50,000 to pay for college.
Also, the post-9/11 G.I. Bill makes soldiers, who have served 90 or more days on active duty after September 11, eligible for up to 36 months of education benefits, including tuition payment, fees, monthly living allowance, books, supplies, or transferrable benefits to spouses or children.
Every year, college students also have the option to join the Reserve Officer Training Corps, or ROTC program. The program offers payment for tuition and classes in order to allow students to become certified army officers.  At the same time, college students can continue to take their college courses.
With the military presence in the Middle East dwindling and college tuition ballooning, more men and women may look to military scholarships in order to avoid taking out high-interest loans.